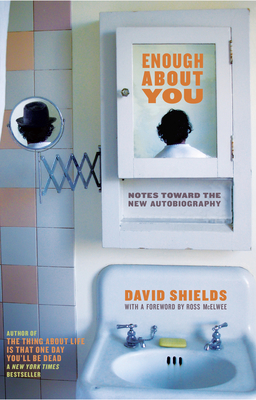 Enough About You
Notes Toward the New Autobiography
Paperback

* Individual store prices may vary.
Description
What does it mean to construct a self? What does it mean to turn your life into a narrative? What's gained? What's lost? What lies inevitably get told? What deeper truths are reached or at least reached for? Enough About You has no answers to these questions, but it frames and asks these questions in a much more overt, honest, precise, and provocative way than any book has attempted yet, and tries to do so while also delivering the pleasures of narrative, of memoir, of search-for-self.
With moving and often hilarious candor, Shields explores the connections between fiction and nonfiction, stuttering and writing, literary forms and literary contents, art and life; he confronts bad reviews of his earlier books; he examines why he read a college girlfriend's journal; he raids a wide range of cultural figures (from Rousseau, Nabokov, and Salinger to Bill Murray, Adam Sandler, and Bobby Knight) for what they have to tell him about himself.
Enough About You is a book about David Shields. But it is also a terrifically engrossing exploration and exploitation of self-reflection, self-absorption, full-blown narcissism, and the impulse to write about oneself. In a world awash with memoirs and tell-alls, Shields has created something unique: he invites the reader into his mind as he turns his life into a narrative.
Praise For Enough About You: Notes Toward the New Autobiography…
"Shields makes it easy to identify with his confusions and screw-ups and ambivalences, but his insightfulness and careful consideration are his canny talent. Gladdeningly inclusive, like a hug from Walt Whitman: declarative and fraught and good.--Kirkus Reviews

"[A]n autobiography that complicates the process of autobiographical writing at every turn. If consciousness is irrevocably fragmented, Shields is pretty good at putting the pieces back together."--Elaine Blair, Newsday

"Enough About You attempts to move beyond those self-created mythologies we save for first dates and talk show appearances. David Shields uses gimmicks and sidelong glances to catch the truth with its pants down."--Joy Press, Village Voice

"Works because of the writer's fearless honesty . . . . Shields ditches the outside subject matter to confront his narcissism head-on, a particularly potent them in these self-absorbed times."--J. Peder Zane, Raleigh News & Observer

"Based on two puckish tenets: 'What I ultimately believe in is talking about everything until you're blue in the face' and 'If I'm not writing it down, experience doesn't really register.' Shields's apologia for the genre is also a work of literary criticism."--Dana Goodyear, The New Yorker
Soft Skull, 9781593762193, 192pp.
Publication Date: January 1, 2009
About the Author
David Shields is the author of Reality Hunger: A Manifesto and The Thing About Life Is That One Day You'll Be Dead, a New York Times bestseller. He is the author of eight other books, including Black Planet: Facing Race During an NBA Season, a finalist for the National Book Critics Circle Award; Remote: Reflections on Life in the Shadow of Celebrity, winner of the PEN/Revson Award; and Dead Languages: A Novel, winner of the PEN Syndicated Fiction Award. His essays and stories have appeared in The New York Times Magazine, Harper's, Yale Review, Village Voice, Salon, Slate, McSweeney's, and Utne Reader; he's written reviews for The New York Times Book Review, Los Angeles Times Book Review, The Boston Globe, and Philadelphia Inquirer.

Shields has received a Guggenheim fellowship, two NEA fellowships, an Ingram Merrill Foundation Award, a Ludwig Vogelstein Foundation grant, and a New York Foundation for the Arts Fellowship. He lives with his wife and daughter in Seattle, where he is a professor in the English department at the University of Washington. Since 1996 he has also been a member of the faculty in Warren Wilson College's low-residency MFA Program for Writers, in Asheville, North Carolina. His work has been translated into fifteen languages.
or
Not Currently Available for Direct Purchase