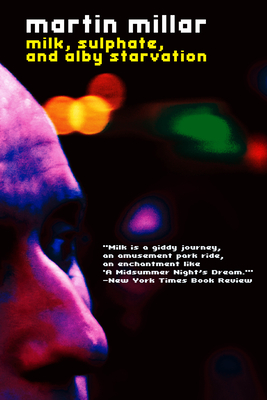 Milk, Sulphate, and Alby Starvation
Paperback

* Individual store prices may vary.
Description
There's a megalomaniac professor digging a hole outside his flat. His small stake in the amphetamine market in Brixton is being threatened by a mysterious Chinese man. And the Milk Marketing Board has taken out a contract on his life. Welcome to the bizarre, obsessive world of Alby Starvation.
Alby's doctor refuses to believe he's allergic to just about everything (which he is), especially milk. But when Alby soon discovers that his ongoing ailments are directly linked to the consumption of said product, he gives it up and is cured. Only thing is, he goes on to suggest this remedy to a number of other people suffering from milk allergies. In Millar's surreal backyard, the Milk Marketing Board sees sales slump to an alltime low. So there's only one thing left to do: put out a contract on Alby Starvation. Now Alby must save both his life and his precious comic collection.
In Martin Millar's surreal tale of the urban counterculturea world full of shoplifting, deaththreats, paranoia, and video game arcadesAlby's frantic struggle to avoid being shot falls somewhere between Irvine Welsh and "Lock, Stock and Two Smoking Barrels.
Soft Skull Press, 9781593762278, 176pp.
Publication Date: January 6, 2009
or
Not Currently Available for Direct Purchase