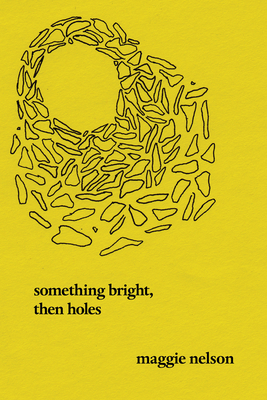 Something Bright, Then Holes
Poems
Paperback

* Individual store prices may vary.
Other Editions of This Title:
Paperback (10/1/2007)
Description
Before Maggie Nelson's name became synonymous with such genre-defying, binary-slaying writing as The Argonauts and The Art of Cruelty, this collection of poetry introduced readers to a singular voice in the making: exhilarating, fiercely vulnerable, intellectually curious, and one of a kind.

These days/the world seems to split up/into those who need to dredge/and those who shrug their shoulders/and say, It's just something/that happened.

While Maggie Nelson refers here to a polluted urban waterway, the Gowanus Canal, these words could just as easily describe Nelson's incisive approach to desire, heartbreak, and emotional excavation in Something Bright, Then Holes. Whether writing from the debris-strewn shores of a contaminated canal or from the hospital room of a friend, Nelson charts each emotional landscape she encounters with unparalleled precision and empathy. Since its publication in 2007, the collection has proven itself to be both a record of a singular vision in the making as well as a timeless meditation on love, loss, and―perhaps most frightening of all―freedom.
Praise For Something Bright, Then Holes: Poems…
"Nelson's newest collection continues the genre dodging of her second poetry collection, Jane: A Mystery [sic]. Narrative, sentimental and self-indulgent, this third collection risks many possible poetic pitfalls and comes through unscathed through sheer intensity of and commitment to her voice. Over three sections, Nelson employs a consistent narrator, recognizable settings, recurring characters and a few structures closely resembling plots. But it's not fiction. And though each section also has lines, stanzas, and lyric musicality, it's poetry only in a very loose sense. Instead, it's a stunning collection of real-world stories shadowed by the netherworld of poetry."—Publishers Weekly
Soft Skull, 9781593762308, 96pp.
Publication Date: June 12, 2018
About the Author
Maggie Nelson is a poet, critic, scholar, and nonfiction writer. In 2016 she was received a MacArthur "genius" grant. She is the author of five books of nonfiction, including The Argonauts (Graywolf Press, 2015), which won the National Book Critics Circle Award in criticism and was a New York Times bestseller; a landmark work of cultural, art, and literary criticism titled The Art of Cruelty: A Reckoning (Norton, 2011), which was featured on the front cover of the New York Times Book Review and named a New York Times Notable Book of the Year; the cult classic Bluets (Wave Books, 2009), which was named by Bookforum as one of the 10 best books of the past 20 years; a memoir about her family, media spectacle, and sexual violence titled The Red Parts (originally published by Free Press in 2007, reissued by Graywolf in 2016); and a critical study of painting and poetry titled Women, the New York School, and Other True Abstractions (University of Iowa, 2007; winner, the Susanne M. Glassock Award for Interdisciplinary Scholarship). Her books of poetry include Something Bright, Then Holes (Soft Skull Press, 2007), Jane: A Murder (Soft Skull, 2005; finalist, the PEN/Martha Albrand Award for the Art of the Memoir), The Latest Winter (Hanging Loose Press, 2003), and Shiner (Hanging Loose, 2001). She has been the recipient of a 2012 Creative Capital Literature Fellowship, a 2010 Guggenheim Fellowship in Nonfiction, an NEA Fellowship in Poetry, and an Andy Warhol Foundation/Creative Capital Arts Writers Grant. She lives in Los Angeles.