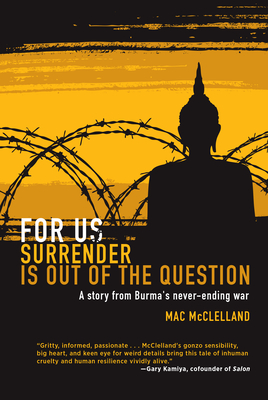 For Us Surrender Is Out of the Question (Paperback)
A Story from Burma's Never-Ending War
Soft Skull Press, 9781593762650, 388pp.
Publication Date: February 16, 2010
* Individual store prices may vary.
Description
There are bad things going on in Burma that you don't know about. There's a civil war (the world's longest running, in fact) raging between the government and ethnic rebels. Much of the United States' heroin comes from there. And there's the small matter that America helped make it all possible with overt funding and the CIA's very first secret war. Of course, you wouldn't know any of this, because Burma is a country nearly shut out from the rest of the world, with the only footage of the carnage coming via groups of young, tough, booze-loving refugees who run into war zones to collect it. And with these refugees is where we find Mac McClelland embedded in her staggering debut, For Us Surrender Is Out of the Question. McClelland weaves a narrative that is part investigative journalism, part popular history, and part memoir of a Midwestern, twentysomething girl living with refugee activists on the Burma-Thailand border. Driven by the community McClelland is illegally aiding--a small group of brave young men and women--For Us Surrender Is Out of the Question is an urgent and fascinating look at a weary conflict, told by a bright, new voice.
or
Not Currently Available for Direct Purchase