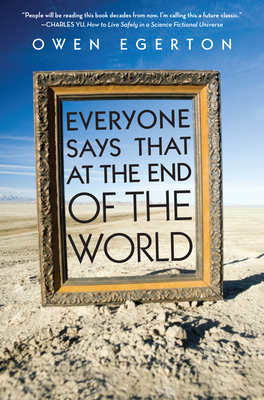 Everyone Says That at the End of the World (Paperback)
Soft Skull Press, 9781593765187, 360pp.
Publication Date: April 2, 2013
Description
Earth is the mental asylum of the universe and humans are the incurable inmates. .Now the asylum is being shut down. Everyone Says That at the End of the World traces the adventures of a ghost-haunted slacker couple expecting their first child, an outrageously arrogant television actor seeking redemption and a prophetic hermit crab on a cross-country quest as they struggle to survive the final four days of life on Earth. Inter-dimensional time travelers, Jesus clones, and prosthetic limbs all play a role in the catastrophic events leading to the planet's end. Combining humor, philosophical inquiry and unforgettable characters, Egerton leads us through the most bizarre apocalypse ever put to paper.
About the Author
Owen Egerton is one of the talents behind the award-winning The Sinus Show and Master Pancake Theater at the Alamo Drafthouse Theater, and for several years was the artistic director of Austin's National Comedy Theatre. He's written screenplays for Fox, Warner Brothers and Disney studios. He is also the author of the one-man play The Other Side of Sleep and the novel The Book of Harold, which is currently in development as a television series with Warner Bros. Television. He lives in Austin.
Advertisement