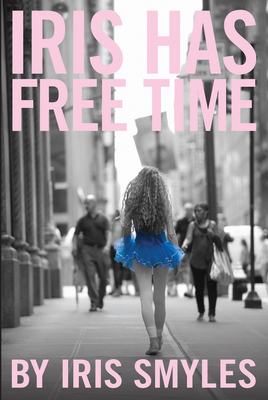 Iris Has Free Time
Paperback

* Individual store prices may vary.
Description
Modeled on Dante's Divine Comedy and riffing on Proust's In Search of Lost Time, Iris Has Free Time is a subtle, complicated, funny, bold, lyrical and literary, sad and wise book about youth, time, and what it means to grow up. An instant classic and essential reading for anyone who has ever been young.

"There, I came across a cluster of NYU graduates standing in cap and gown. They were laughing and posing for photos. Was it June again already? Their voices echoed through the subway tunnel. 'Congratulations!' 'Congratulations!' their parents said. And I wanted to yell, 'Don't do it! Go back! You don't know what it's like!'"

Whether passed out drunk at The New Yorker where she's interning; assigning Cliffs Notes when hired to teach humanities at a local college; getting banned from a fleet of Greek Island ferries while on vacation, or trying to piece together the events of yet another puzzling blackout—"I prefer to call them pink-outs, because I'm a girl"—Iris is never short on misadventures. From quarter-life crisis to the shock of turning thirty, Iris Has Free Time charts a madcap, melancholic course through that curious age—one's twenties—when childhood is over, supposedly.
Praise For Iris Has Free Time…
"Smyles, the author not the character, depicts a particular moment in time—that awkward place between being a kid and being an adult—and the results are often hilarious, often tinged with sadness, but always authentic."
-Booklist

"A powerful and generously written statement about the passage of time and the difficulty of becoming someone you can look at in the mirror every morning."
-USA Today

"Iris Smyles has reinvented Sally Bowles and Holly Golightly for the 21st century--with this difference: she inhabits rather than observes her appealing character."
-Edmund White, author of City Boy and Marcel Proust: A Life

"Iris Has Free Time is a hilarious, lyrical and wise book about youth—its beauty, its folly, and the belief it will go on forever even as it's slipping away. You will love this book."
-Diane Keaton, Academy award winning actress and author of Then Again

"An instant classic… Iris Has Free Time is simultaneously satirical, sarcastic, vulnerable and sincere. It is a smart, funny, wise, and sometimes heartbreaking book about a slowly fizzling love affair with youth. If you haven't heard about this book yet, you will soon.
-Forbes.com

"If novels made Emma Bovary sick with romantic ideas, a liberal arts degree infects Iris with the same illness in grand proportion…. "Madame Bovary c'est moi," Flaubert said. Recognizing her illusions and struggles to grow up, we all might say, 'Iris is me.'"
-BOMB magazine

"Iris Smyles has created in 'Iris Smyles' an irresistible anti-heroine whose innocent iconoclasm startles and captivates."
-Frederic Tuten, author of The Adventures of Mao on the Long March

"Iris Smyles is my spirit animal."
-James St. James, author of Party Monster

"Entertaining as hell."
-SF Weekly

"Such a delight, this book: the perfect frenzied bildungsroman for an era when coming-of-age can be postponed practically to middle age, as funny and sharp as can be but unafraid of seriousness and consequence. It's The House of Mirth minus the no-way-out tragedy, Bright Lights Big City for the 21st century, Girls for people who love the deep dive into great prose."
-Kurt Andersen, author of Heyday

"The hilarious high jinks of a college graduate in New York trying—and frequently failing—to navigate her internship, job interviews, and men, though her slipups rarely dampen her bravado."
-O, The Oprah Magazine

"Delightful, dreamy, witty, sad, and always charismatically engaging and curious, Iris, the narrator and heroine of this tale, lets you into her heart and mind as she observes the passing of her youth and the shadow-like recession of her dreams and romances. In doing so, she makes one think of one's own youth and folly, and all the folly yet to come, because maybe the unspoken message of this story—and one I agree with—is that we never really grow up. At least I hope we don't."
-Jonathan Ames, author of Wake Up, Sir! and creator of HBO's Emmy winning Bored to Death

A darkly comic, affecting portrait of a 20-something with literary ambitions, Iris Has Free Time is a shaggy dog story, in accordance with Iris's wish to live "plotlessly." No one conflict overarches this novel; instead, Smyles constructs a portrait of youth by focusing on smaller moments—"stories of tragic dailyness," as the narrator might put it. That aforementioned narrator is Iris herself, who tells her story in alternating tones—sometimes cynical and snotty, sometimes yearning and vulnerable—while dropping references to cultural detrita both high and low, ranging from The Odyssey and Rebecca to Sex and the City and The Real World. Smyles takes the novel's epigraph not from Dante, but from "Spark Notes: Dante's Inferno"—literary, but irreverently so.
-Electric Literature

"If Hemingway's novels are icebergs, drifting majestically through a chilly sea, Iris Smyles's Iris Has Free Time is a mountain of glitter: iridescent, fabulous, and always changing its shape, it's a monument to the idea of fun, and is itself a delight."
-Paul La Farge, author of Luminous Airplanes

"Told in vignettes, unconstrained by time, Iris Has Free Time captures the wandering quality of our twenties, the sense of possibility. Smyles's free form—her shifting from first person point of view, to second person, to utilizing a Q & A format that is downright philosophical as a mode of storytelling []—is reminiscent of a modern Joyce, a Portrait of the Artist as a Young Woman."
-The Rumpus

"It's hard to miss the surface parallels between Sex and the City and Iris Has Free Time… But it would be a mistake to dismiss Iris as a Candace Bushnell knockoff…the novel's deeper themes dovetail far more with Girls…What's more, it seems that unlike Carrie, Iris isn't about to sign herself up for an extra decade of Peter-Pandom. As she asks after surviving a series of benders, 'When did all these games stop being fun?'"
-Elle Magazine

"A labyrinthine concept, paired with a refreshingly straightforward (and lovable) narrator, Iris Has Free Time is a series of serious one-liner gems, laugh-out-loud hilarity, "no-she-didn't" moments of vicarious embarrassment and truly intelligent philosophical observations. The most believable untrue autobiographical treatise on life, love, liquor and literature you'll have the pleasure of reading this year, or maybe ever."
-The Coast
Soft Skull, 9781593765194, 336pp.
Publication Date: May 14, 2013
About the Author
Iris Smyles has written for numerous publications including Nerve, New York Press, McSweeney's and BOMB. She was awarded The Doris Lippman Prize for fiction, The Adria Schwartz Fiction Award, The Geraldine Griffin Moore Short Story Award and is a frequent contributor to Splice Today. She lives in New York.
or
Not Currently Available for Direct Purchase