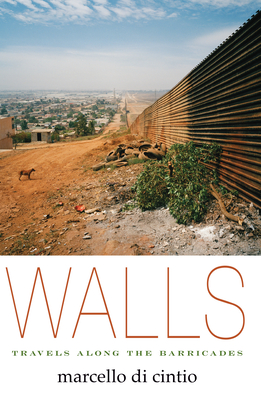 Walls: Travels Along the Barricades (Paperback)
Travels Along the Barricades
Soft Skull Press, 9781593765248, 287pp.
Publication Date: August 20, 2013
Description
What does it mean to live against a wall? In this ambitious first person narrative, Marcello Di Cintio travels to the world's most disputed edges to meet the people who live alongside the razor wire, concrete, and steel and how the structure of the walls has influenced their lives. Di Cintio shares tea with Saharan refugees on the wrong side of Morocco's desert wall. He meets with illegal Punjabi migrants who have circumvented the fencing around the Spanish enclave of Ceuta. He visits fenced-in villages in northeast India, walks Arizona's migrant trails, and travels to Palestinian villages to witness the protests against Israel's security barrier. From Native American reservations on the U.S.-Mexico border and the "Great Wall of Montreal" to Cyprus's divided capital and the Peace Lines of Belfast, Di Cintio seeks to understand what these structures say about those who build them and how they influence the cultures that they pen in. He learns that while every wall fails to accomplish what it was erected to achieve - the walls are never solutions - each wall succeeds at something else. Some walls define Us from Them with Medieval clarity. Some walls encourage fear or feed hate. Some walls steal. Others kill. And every wall inspires its own subversion, either by the infiltrators who dare to go over, under, or around them, or by the artists who transform them.

About the Author
Marcello DiCintio has enjoyed stints abroad in West Africa, North Africa, India, and the Middle East. His most recent book, "Poets and Pahlevans: A Journey Into the Heart of Iran," was published by Knopf Canada; it won the Wilfred Eggleston Prize for Best Non-Fiction and was praised by the "Calgary Herald" as "graceful and sympathetic...finely balanced...beautifully written and uplifted by the author's agreeable personality...not to be missed." He is also the author of "Harmattan: Wind Across West Africa," which won the Henry Kriesel Award for Best First Book. He has also written for numerous magazines and journals, including "The Walrus, EnRoute, Geist, Reader's Digest, Afar," and "The Globe and Mail."
Advertisement