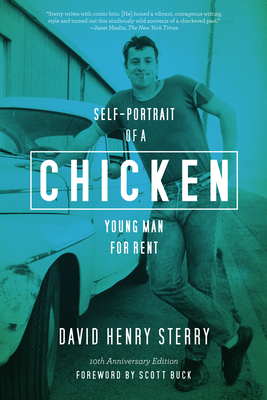 Chicken
Self-Portrait of a Young Man for Rent
Paperback

* Individual store prices may vary.
Other Editions of This Title:
Paperback (3/1/2003)
Description
I walk all the way up Hollywood Boulevard to Grauman's Chinese Theatre: past tourists snapping shots; wannabe starlets sparkling by in miniskirts with head shots in their hands and moondust in their eyes; rowdy cowboys drinking with drunken Indians; black businessmen bustling by briskly in crisp suits; ladies who do not lunch with nylons rolled up below the knee pushing shopping carts full of everything they own; Mustangs rubbing up against muscular Mercedes and Hell's Angels hogs. It's a sick twisted Wonderland, and I'm Alice. Here is a story like no other: The unforgettable chronicle of a season spent walking the razor-sharp line between painful innocence and the allure of the abyss. David Sterry was a wide-eyed son of 1970s suburbia, but within his first week looking for off-campus housing on Sunset Boulevard he was lured into a much darker world -- servicing the lonely women of Hollywood by night. Chicken--the word is slang for a young male prostitute--revisits this year of living dangerously, in a narrative of dazzling inventiveness and searing candor. Shifting back and forth from tales of Sterry's youth--spent in the awkward bosom of a disintegrating dysfunctional family--to his fascinating account of the Neverland of post--sixties sexual excess, Chicken teems with Felliniesque characters and set pieces worthy of Dionysus. And when the life finally overwhelms Sterry, his retreat from the profession will leave an indelible mark on readers' minds and hearts.

Soft Skull Press, 9781593765279, 256pp.
Publication Date: October 8, 2013
About the Author
David Henry Sterry is the author of more than ten books, including Hos, Hookers, and Callgirls, Johns, Marks, Tricks, and Chickenhawks, Unzipped: A true story of Sex, Drugs, Rollerskates and Murder, and Master of Ceremonies: A true story of love, murder, roller--skates and Chippendales. He's made over 300 media appearances and was a finalist for the Henry Miller Award.
or
Not Currently Available for Direct Purchase