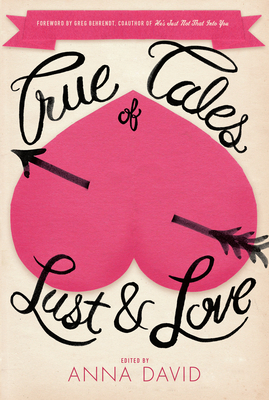 True Tales of Lust and Love
Paperback

* Individual store prices may vary.
Description
Anna David's True Tales of Lust and Love began as a one-time-only reading and storytelling show in January of 2012, a venue for writers and comedians to share and laugh at their dating disaster stories. But after selling out the venue and attracting immediate press and buzz—with articles in The LA Weekly, LA Times, Time Out, Flavorpill, and LAist, among others—David agreed to produce the show every month. It has continued not only to sell out but also to attract a growing list of authors, comedians, and Hollywood writers. As Time Out declared, "This is the place to go to see strong female performers."

With the show now booked indefinitely, and with audio recordings of each performance available on iTunes, Anna has collected the most popular and entertaining pieces into the first ever True Tales of Lust and Love anthology. The book includes essays organized into three sections—Casual Sex, Dating, and Out of the Ordinary—which collectively offer up funny, raucous, insightful, and surprisingly touching confessions about the quest for lust and love. Everyone has dating disaster stories, everyone needs to share and laugh at them, and this anthology will give readers the opportunity to do just that, with contributions from the funniest writers and comedians around, pulled from the world of books, TV, and film. True Tales of Lust and Love is the perfect complement for a funny or cynical Valentine's Day—and beyond.
Praise For True Tales of Lust and Love…
"Daring, delightful, sexy, cool, sweet, and poignant—Anna David's compilation True Tales of Lust and Love explores the dark, moist corners of the female psyche, armed with pens, tears, and humor. I savored every word." —Gigi Levangie Grazer

"While there is no shortage of books about the pleasures and perils of dating in the 21st century, David's all-female collection stands out from the crowd…Humor and awkwardness feature throughout, but there is enough sweetness, especially in the latter two sections, sprinkled in to inspire even the most jaded to take a second look at their list of potential mates..None of the stories here fall flat; it's a hysterical and touching read perfect for young women still figuring out their way in the dating world." —Publishers Weekly

"[G]reat for reading out loud"—Cosmo

Praise for the True Tales of Lust and Love Series:

"These broads give good prose jobs" —L.A Weekly

"A night of love lives gone wrong—flame-out dates, awkward encounters and broken hearts—for culture lovers" —Los Angeles Times

"After so many solo book readings over the years, writer Anna David (Falling for Me, Party Girl) got a little lonely and decided to add funny, smart and sexy (really—they're all babes!) women telling stories about sex and love to her lineup. Enter: True Tales of Lust and Love. This is the place to go to see strong female performers. Case in point, big-name comedian Maria Bamford has woven tales here in the past." —Time Out Los Angeles

"The Mint celebrates its 75th anniversary this year, making it a true landmark (especially by LA standards), but the loyal fans of the live-music scene and local-hangout vibe already know that. Known for raucous, dance-inducing rock and funk music, plus the occasional alt-country and punk show — as well as a great menu and cozy leather booths — this spot is always a sure bet for a good time. Case in point: TV personality and author of books like Falling for Me, writer Anna David gathers a group of smart and sexy ladies to read their own romantic stories at the Mint's latest and most buzzworthy monthly live-storytelling show, True Tales of Lust and Love." —Flavorpill

"Val-Day lurks around the corner so what better way to compliment — or counteract — the ubiquitous hearts and flowers than with True Tales of Lust and Love from Writers and Comedians: author/TV personality Anna David's convocation of witty, wildly accomplished writer gals who know how to bitch slap a Hallmark card right out of existence." —Eat LA
Soft Skull, 9781593765385, 272pp.
Publication Date: January 7, 2014
About the Author
Anna David is the New York Times-bestselling author of the novels Party Girl, Bought, the non-fiction books Reality Matters, Falling for Me and By Some Miracle I Made It Out of There, and the Kindle Singles Animal Attraction and They Like Me, They Really Like Me. She has written first-person sex, dating, and relationship pieces for The New York Times, The LA Times, Playboy, and many others. She appears regularly on The Today Show, CNN's Showbiz Tonight, The CBS Morning Show, Fox's Hannity and Red Eye, and HLN's Dr. Drew and was the sex and dating expert on G4's Attack of the Show for three years.
or
Not Currently Available for Direct Purchase