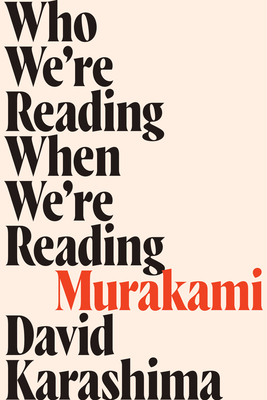 Who We're Reading When We're Reading Murakami (Paperback)
Soft Skull Press, 9781593765897, 384pp.
Publication Date: September 1, 2020
* Individual store prices may vary.
Description
How did a loner destined for a niche domestic audience become one of the most famous writers alive? A rare look inside the making of the "Murakami Industry"--and a thought-provoking exploration of the role of translators and editors in the creation of global literary culture.
Thirty years ago, when Haruki Murakami's works were first being translated, they were part of a series of pocket-sized English-learning guides released only in Japan. Today his books are in fifty languages and have won prizes and sold millions of copies globally. How did a loner destined for a niche domestic audience become one of the most famous writers alive? This book tells one key part of the story. Its cast includes an expat trained in art history who never intended to become a translator; a Chinese-American ex-academic who never planned to work as an editor; and other publishing professionals in New York, London, and Tokyo who together introduced a pop-inflected, unexpected Japanese voice to the wider literary world.
David Karashima synthesizes research, correspondence, and interviews with dozens of individuals--including Murakami himself--to examine how countless behind-the-scenes choices over the course of many years worked to build an internationally celebrated author's persona and oeuvre. He looks beyond the "Murakami Industry" toward larger questions: How active a role should translators and editors play in framing their writers' texts? What does it mean to translate and edit "for a market"? How does Japanese culture get packaged and exported for the West?
About the Author
David Karashima has translated a range of contemporary Japanese authors into English, including Hitomi Kanehara, Hisaki Matsuura, and Shinji Ishi. He co-edited the anthology March Was Made of Yarn: Writers Respond to the Japanese Earthquake, Tsunami, and Nuclear Meltdown and is co-editor of Pushkin Press's Contemporary Japanese Novellas series and Stranger Press's Keshiki Series. He is an associate professor of creative writing at Waseda University in Tokyo.