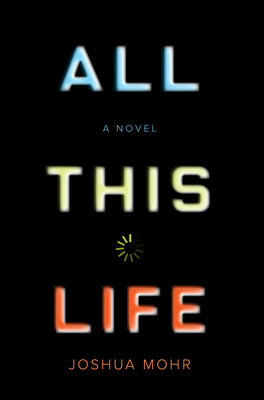 All This Life
A Novel
Hardcover

* Individual store prices may vary.
Other Editions of This Title:
Digital Audiobook (7/13/2015)
Paperback (6/14/2016)
Compact Disc (7/14/2015)
MP3 CD (7/14/2015)
Compact Disc (7/14/2015)
Description
With a wide cast of characters and an exciting pace that mimics the speed of our modern, all-too-connected lives, All This Life examines the dangerous intersection of reality and the imaginary, where coding and technology seek to highlight and augment our already flawed human connections.

Morning rush hour on the Golden Gate Bridge. Amidst the river of metal and glass a shocking event occurs, leaving those who witnessed it desperately looking for answers, most notably one man and his son Jake, who captured the event and uploaded it to the internet for all the world to experience. As the media swarms over the story, Jake will face the ramifications of his actions as he learns the perils of our modern disconnect between the real world and the world we create on line.

In land-locked Arizona, as the entire country learns of the event, Sara views Jake's video just before witnessing a horrible event of her own: her boyfriend's posting of their intimate sex tape. As word of the tape leaks out, making her an instant pariah, Sara needs to escape the small town's persecution of her careless action. Along with Rodney, an old boyfriend injured long ago in a freak accident that destroyed his parents' marriage, she must run faster than the internet trolls seeking to punish her for her indiscretions. Sara and Rodney will reunite with his estranged mother, Kat, now in danger from a new man in her life who may not be who he--or his online profiles--claim to be, a dangerous avatar in human form.

Using his trademark talent for creating memorable characters, with a deep insight into language and how it can be twisted to alter reality, Joshua Mohr returns with his most contemporary and insightful novel yet.
Praise For All This Life: A Novel…
All This Life shifts deftly between dark comedy and pathos, often holding both within a single moment. The ingeniousness of the book is that its form follows its content: The novel is structured on the big and small connections between people, just like the social networks it discusses... Rendered with a colorful intricacy and subversive spirit, "All This Life" shows us San Francisco as it vanishes under the spell of social media. Mohr is a perceptive chronicler of how we live, feel — and avoid feeling — this very minute.—San Francisco Chronicle

"As Mohr's memorable characters converge, All This Life raises profound questions about the growing influence online reality has on our lives." —BBC.com

"The book takes itself seriously, ably balancing its many story lines while it builds to a breathless climax. The characters' strong emotions provide a current of barely contained anguish that threatens to overtake their lives as it pushes them forward....Mohr delivers a solid look at the distinction between our offline and online lives and the danger that lurks when the lines between them are blurred. Thoughtful crossover fiction of interest to adult and YA audiences."—Booklist

"Mohr's narrative is by turns heartrending and humorous, with never a dull moment. Readers will love this cast of characters."—Publishers Weekly, boxed review

"Mohr's portrayal of a rapidly gentrifying San Francisco rings true....Mohr's novel builds slowly, and his empathy for the majority of his characters shines through, allowing for a genuinely felt conclusion."—Kirkus

"Mr. Mohr has found a way to articulate our disconnectedness for all of us. Highly recommended." —Sensitive Skin

"Joshua Mohr is a rabble-rouser whose first four novels have earned him a near cultish following. Now, with All This Life, Mohr wades into the dark territory of cyber voyeurism, internet shaming, tweets, Youtube, and streaming anger. Trouble spreads like wildfire in this compelling novel, and with brutal honesty, and empathy for his diverse cast of characters, Mohr refuses to flinch." —Tom Barbash, author of Stay Up With Me 

"A place belongs forever to the person who claims it the hardest, wrote Joan Didion, about herself, and California, and with All This Life, Joshua Mohr solidifies his claim on the San Francisco of right this minute, a city he loves so much it hurts. Fearless, not only in its willingness to penetrate our real and virtual desperation, but also in its insistence on the tender tenacity of hope, this Tilt-a-Whirl of a novel spins along at cyber-speed to its profound and utterly human finale." —Pam Houston, author of Contents May Have Shifted
Soft Skull, 9781593766030, 304pp.
Publication Date: July 14, 2015
About the Author
Joshua Mohr is the author of the novels Termite Parade (a New York Times Book Review Editor's Choice selection), Some Things that Meant the World to Me (one of O Magazine's Top 10 reads of 2009 and a San Francisco Chronicle bestseller), Damascus, and Fight Song, all published to much critical acclaim. Mohr teaches in the MFA program at the University of San Francisco.