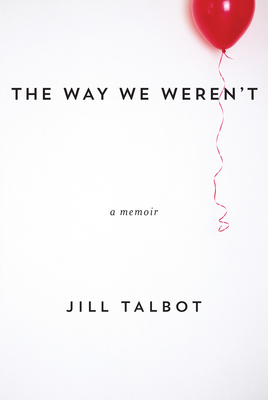 The Way We Weren't
Paperback

* Individual store prices may vary.
Description
After years of futon passion, Hemingway discussions, and three-mile runs, Jill Talbot's relationship with a man carved in her doubts so deep she wrote to ignore them. And even though he was as unwilling to commit to a place or a job as Talbot was to marrying him, he insisted that she keep the baby when a pregnancy surprised them during their fourth year together. As it turned out, Kenny wasn't able to commit to a child either, so when the court ordered visitation and support for their four-month-old daughter, he vanished. His disappearing act was the catalyst for Talbot's own, as she moved her daughter through nine states in as many years—running from the memory of their failed relationship and the hope of an impossible reunion, all the while raising a daughter on her own. Then, one day while packing boxes, she found a photograph that changed everything.

In this memoir-in-essays, Talbot attempts to set the record straight, even as she argues that our shared histories are merely competing stories we choose to tell ourselves. A bold look at the challenges of love and the struggles of a single mother in America today, The Way We Weren't tells a complex, unforgettable story of loss and leaving, and of how Talbot learned that writing can't bring anything back, but that because of it, nothing is ever really lost.
Praise For The Way We Weren't…
"Simple and highly addictive . . . the reader might feel herself gripping the book not only to see where Talbot and her daughter Indie end up . . . . but also to eat up her delectable prose."—Brevity

"A magnetic pull sets in while reading The Way We Weren't, a sinking into the author's state of heart and mind, a compulsion to keep turning the pages. The memoir's allure is a testament to Jill Talbot's formidable talent."—The Boston Globe

"To say that Jill Talbot steps into the controversial borderlands between fiction and non fiction with The Way We Weren't is a vast understatement. It is more like she plunges into them off the fifty-meter springboard, doing three somersaults and a half gainer on the way down. This gut wrenching tale of abandonment (though it is never perfect clear who was the abandoner, who the abandonee) makes us ask giant, soul-bending questions, like 'Does anyone ever know anyone?' and 'Are we always the creators of our own misery?' A brave story of one woman's fight to survive, most of all, her own proclivities." —Pam Houston, author of Contents May Have Shifted

"White-knuckled on the steering wheel, Talbot drives her readers headlong into the fray of her own past. Powerful, effective, and relentless, Talbot reminds us that life is always half-highway and half-dirt road, that our experiences—no matter how universal—demand we pave the way ourselves." —B.J. Hollars, author of Dispatches from the Drownings
Soft Skull, 9781593766153, 304pp.
Publication Date: July 14, 2015
About the Author
Jill Talbot is the author of the memoir The Way We Weren't, as well as Loaded: Women and Addiction, the co-editor of The Art of Friction: Where (Non) Fictions Come Together, and the editor of Metawritings: Toward a Theory of Nonfiction. One of her essays was named a Notable Essay in Best American Essays 2014 and her work has appeared in journals such as Brevity, DIAGRAM, Ecotone, The Paris Review Daily, The Pinch, The Rumpus, and Under the Sun.
or
Not Currently Available for Direct Purchase