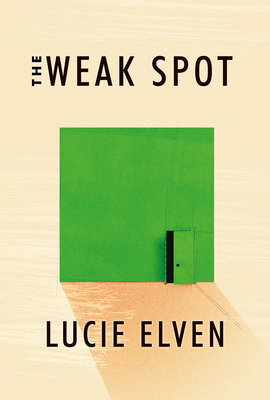 The Weak Spot
A Novel
Paperback

* Individual store prices may vary.
Description
A woman discovers something toxic at work in the isolated village where she is apprenticing as a pharmacist, in this fable-like novel about power, surveillance, prescriptions, and cures by a captivating debut voice.

On a remote mountaintop somewhere in Europe, accessible only by an ancient funicular, a small pharmacy sits on a square. As if attending confession, townspeople carry their ailments and worries through its doors, in search of healing, reassurance, and a witness to their bodies and their lives.

One day, a young woman arrives in the town to apprentice under its charismatic pharmacist, August Malone. She slowly begins to lose herself in her work, lulled by stories and secrets shared by customers and colleagues. But despite her best efforts to avoid thinking and feeling altogether, as her new boss rises to the position of mayor, she begins to realize that something sinister is going on around her.

The Weak Spot is a fable about our longing for cures, answers, and an audience--and the ways it will be exploited by those who silently hold power in our world.
Praise For The Weak Spot: A Novel…
"From the outset there is an ominous rumbling beneath the surface of the story . . . that something wicked this way comes. When it does its form is insidious, conniving, and in keeping with the book's disquietude. In the meantime, even the mundane task of ordering furniture on the internet takes on a hallucinatory, fairytale quality: a well-priced set of chairs turns out to be dollhouse-sized, but before returning them the narrator arranges them in various rooms, a tiny study in Wonderland logic." —Keziah Weir, Vanity Fair

"Fable-like . . . Hints of trauma begin to flicker through the novel's dreamlike surface, as the narrator attempts to keep her feelings 'as still as possible.'" —The New Yorker

"An atmospheric tale of rural intrigue." —K.W. Colyard, Bustle, One of the Most Anticipated Debut Books of the Year 

"Dreamy, hypnotic debut . . . An eerie and resonant modern fable." —Arianna Rebolini, BuzzFeed

"Lyrical and wholly unsettling, The Weak Spot is a beguiling tale of alienation and oppression, offering a new perspective on what it takes to get and maintain control over an unsuspecting public." ––Kristin Iversen, Refinery29, One of the Best New Books of the Year

"Elven's book is mysterious. It's about a mysterious woman in a mysterious town. More importantly it isn't concerned with these mysteries necessarily . . . She allows the book to be weird and allows readers to connect the dots and let the story breathe on its own." —Adam Vitcavage, Debutiful

"A timely fairy tale about the sorcery of disbelief . . . As in many contemporary fairy tales, here the author uses fantasy to pull back the veil surrounding the machinations of those who wield power. Ray Bradbury, for example, described his oeuvre as 'fairy tales about the modern world.' It's in this vein that Elven is writing. She examines the political function of retellings, of rumor." —Bella Bravo, Social Text

"A colorful, controlled narrative of longing, power, and selfhood . . . Elven's precise control at the level of the sentence is apparent wherever one looks." —Ezequiel González, Columbia Journal of Literary Criticism

"Like many fairy tales, this little novel is saying more than it lets on about masculinity, power, gaslighting, and the importance of sharing stories of abuse." —Rebecca Valley, Drizzle Review

"A fabled study of power and uncertainty, tempered with a deliberate and even-keeled slowness that parallels the ambiguity of the past year." —Gauraa Shekhar, Maudlin House

"Though it does have a fable-like quality, the book is not a fairy tale. The narrator's struggles to engage with her own life, to assert herself in her workplace, and to find and trust friends, are contemporary and real . . . The strange yet funny particularity of the narrator's inner monologue also reminded me of the adolescent, mopey, and misunderstood protagonists of Sally Rooney's Conversations with Friends." —Eliza Goodpasture, Review 31

"There is a kind of magic all-knowingness to Lucie Elven's writing . . . This fable-like tale just might be the anecdote you need these days." —Literary Hub, One of the Most Anticipated Books of the Year

"Elven's crisp and creepy debut looks at the transactional nature of relationships and the subtle signals of power at play in small-town dynamics . . . Skillfully polished prose keeps things intriguing. Elven successfully channels the magic and mood of Kafka's fables." —Publishers Weekly

"In prose reminiscent of Fleur Jaeggy, The Weak Spot is a prismatic fable spiked with dozens of elegant revelations. Lucie Elven is an extremely promising new writer, one in touch with a greater, richer world that exists just below the surface of daily life." --Catherine Lacey, author of Pew and The Answers
Soft Skull, 9781593766306, 176pp.
Publication Date: February 9, 2021
About the Author
Lucie Elven has written for publications including The London Review of Books, Granta, and NOON. The Weak Spot is her first book. She lives in London.