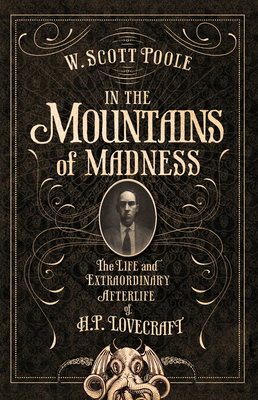 In the Mountains of Madness
The Life and Extraordinary Afterlife of H.P. Lovecraft
Paperback

* Individual store prices may vary.
Other Editions of This Title:
Digital Audiobook (9/12/2016)
Compact Disc (9/13/2016)
MP3 CD (9/13/2016)
Description
This "smart, shrewd, and insightful" biography of H.P. Lovecraft not only explores the author's fascinating life but also reveals his "lasting power and influence" on the entertainment industry and society as a whole (Victor LaValle, author of The Changeling)

Interweaving the biography of the legendary writer with an exploration of Lovecraft as a phenomenon, In the Mountains of Madness strives to explain this reclusive, cultish figure while challenging some of the general views held by Lovecraft devotees. Focusing specifically on the large cross-section of horror and science fiction fans who know Lovecraft through films, role-playing games, and video games directly influenced by his work, but who know little or nothing about the man himself, In the Mountains of Madness places Lovecraft and his work in a cultural context, as an artist more in tune with our time than his own.

More than a traditional biography, this provocative book reclaims the true essence of Lovecraft in relation to the comics of Joe Lansdale, the novels of Stephen King, and some of the biggest blockbuster films in contemporary America, proving the undying influence of this rare and significant figure.
Praise For In the Mountains of Madness: The Life and Extraordinary Afterlife of H.P. Lovecraft…
"Must reading for both loyal Lovecraft fans and biography lovers."
—Booklist

"This work by Poole makes Lovecraft's story accessible to casual readers without forsaking the level of detail expected of a more scholarly work . . . this book entertains and surprises, as with Poole's decision to write in the first person—he's a wry and jovial narrator. He also takes pains to explore Lovecraft's influence upon art and popular culture... This interesting biography also provides new perspectives on the author's character that will incense the keepers of Lovecraft's mythos."
—Library Journal

"H.P. Lovecraft is having one hell of a resurgence. Luckily, the author of the man's latest biography is the smart, shrewd, and insightful W. Scott Poole. In the Mountains of Madness gives a welcome accounting of Lovecraft's career but, importantly, urgently, Poole also offers a new outlook on the women in Lovecraft's life. His mother and wife, dismissed or vilified for so long, are cast as some of his most essential supporters. What a welcome new point of view this book offers about this issue and so many others. What a wonderful testament to the lasting power and influence of H.P. Lovecraft."
—Victor LaValle, author of The Changeling

"As Poe was to the 20th century, Lovecraft is to the 21st, and W. Scott Poole's book is his Horrible Holiness's Gospels, his Revelations, and his Necronomicon, all in one, like some kind of twisted trinity guiding us deep into the mountains of madness."
—Grady Hendrix, author of My Best Friend's Exorcism

"A fascinating journey . . . The secret of Lovecraft revealed a page at a time. A must read for all true fans of horror."
—Jonny Coffin, owner of Coffin Case
Soft Skull, 9781593766474, 320pp.
Publication Date: September 13, 2016
About the Author
W. Scott Poole who teaches at the College of Charleston, has written widely about American history, horror, and pop culture. His books include Vampira: Dark Goddess of Horror and his award-winning history Monsters in America, which received the John G. Cawelti prize from the Popular Culture Association and was named among the "Best of the Best" by the AAUP for 2011. Poole is a regular contributor to Popmatters and his work has appeared in the Huffington Post, Religions Dispatches, and Killing the Buddha. He blogs at his website, monstersinamerica.com.