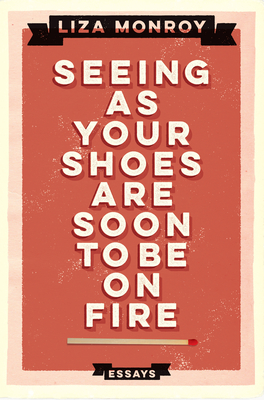 Seeing As Your Shoes Are Soon to be on Fire
Essays
Paperback

* Individual store prices may vary.
Description
Liza Monroy's new book is collection of deeply personal essays that tackle the universal themes of romantic and familial love, fate and chance, all told in a humorous and intelligent manner that keeps the reader yearning for more. Created in the wake of Liza's popular essays– including her piece for the Modern Love column in the New York Times — Seeing As Your Shoes Are Soon To Be On Fire chronicles Liza's many misadventures in her quest for love. These misadventures span a variety of countries and a variety of men, all bound together under the watchful eye of her eccentric, single mother, a profiler for the U.S. State Department, who is soon using her professional aptitude to weed out the men in her daughter's path.

Filled with quirky details and archetypal characters from our everyday lives, with stories that are both wildly hilarious and deeply heartfelt, Seeing As Your Shoes Are Soon To Be On Fire is both a vulnerably open testament to Liza's personal experiences and an intriguing work that confronts the odds of finding love and intimacy in the increasingly depersonalized world of technology.
Praise For Seeing As Your Shoes Are Soon to be on Fire: Essays…
"Monroy chronicles her efforts to find lasting love with the (often unsolicited) advice of her opinionated mother, a retired U.S. visa screener referred to as "The Profiler"... [she] provides insight into managing expectations and the layers of experience, how we can construct a vivid romantic narrative around someone when we are merely a "bit player" in their own story... it is interesting to watch Monroy learn her lessons, to stop romanticizing her partners or assigning them to neat boxes, to assert boundaries and rules, even if they get broken. When she finally gets her happy ending, it feels earned. —Publishers Weekly

"Thrilling, enigmatic, wow! and beautifully observed—these are just a few of the things I've written in the margins of these essays. Liza Monroy's writing is as fun as it is profound, as lively as it is moving—this is a book you'll want to tell people about." —Elizabeth McKenzie, author of The Portable Veblen

"Unlike some of the skinflint, unreliable, or downright psychotic male suitors who appear in her outstanding memoir, Liza Monroy is a great date – a masterful storyteller, witty, urbane, tender, and hilarious. This is a fast-paced, deftly written, unsparing, and hilarious journey through the landscape of bad love. Monroy's imperious, charming, boyfriend-deporting Mom, AKA The Profiler, is a memoir character for the ages; she seems to have emerged, fully formed, from the pages of a Philip Roth novel." —Dan White, author of Under the Stars and The Cactus Eaters
Soft Skull, 9781593766498, 300pp.
Publication Date: October 11, 2016
About the Author
Liza Monroy is the author of The Marriage Act: The Risk I Took to Keep My Best Friend in America...And What It Taught Us about Love and Mexican High. Her essays and articles have appeared in The New York Times, The Los Angeles Times, Psychology Today and Poets & Writers. Her work has also been featured in various anthologies, including Goodbye to All That: Writers on Loving and Leaving New York and One Big Family. Liza has taught writing at Columbia University, UCLA Extension, and UC Santa Cruz. She currently lives in Santa Cruz, California.
or
Not Currently Available for Direct Purchase