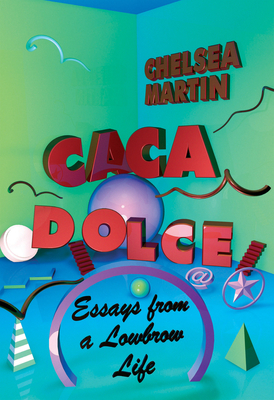 Caca Dolce (Paperback)
Essays from a Lowbrow Life
Soft Skull Press, 9781593766771
Publication Date: August 22, 2017
* Individual store prices may vary.
Description
"For anyone who has ever felt weird or poor or misunderstood or just . . . weird, well, this is the book for you. Martin chronicles her own bizarre upbringing in such a way that the strangeness of it all manages to still feel universal. She recounts everything from her attempt to manifest an alien invasion (she was just 11; what 11-year-old doesn't want E.T. to visit?) to the fights she had with her family, to what it was like to be diagnosed with Tourette's Syndrome as an adolescent. It's a wild ride of a memoir, and a true glimpse into the mind of an artist as she's figuring out what life is all about." --Kristin Iversen, Nylon
Funny, candid, and searchingly self-aware, this essay collection tells the story of Chelsea Martin's coming of age as an artist. We are with Chelsea as an eleven-year-old atheist, trying to will an alien visitation to her neighborhood; fighting with her stepfather and grappling with a Tourette's diagnosis as she becomes a teenager; falling under the sway of frenemies and crushes in high school; going into debt to afford what might be a meaningless education at an expensive art college; navigating the messy process of falling in love with a close friend; and struggling for independence from her emotionally manipulative father and from the family and friends in the dead-end California town that has defined her upbringing. This is a book about relationships, class, art, sex, money, and family--and about growing up weird, and poor, in the late 1990s and early 2000s.
About the Author
CHELSEA MARTIN is the author of Everything Was Fine Until Whatever; The Really Funny Thing About Apathy; Even Though I Don't Miss You, which was named one of the Best Indie Books of 2013 by Dazed magazine; and Mickey. Her work has appeared in Buzzfeed, Hobart, Lenny Letter, Vice, and Catapult, and chosen as a Notable Essay in Best American Essays 2016. She is a comic artist and illustrator and currently lives in Washington State.