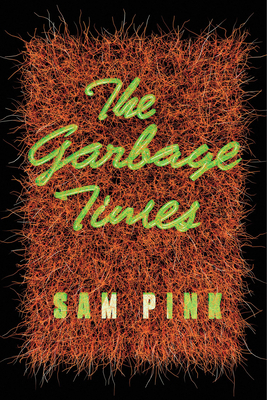 The Garbage Times/White Ibis
Two Novellas
Paperback

* Individual store prices may vary.
Description
"I love the pulse of Sam Pink's sentences, the way they can hold the gorgeous and the grisly and the hilarious all at the same time. The Garbage Times/White Ibis thrilled me and messed me up, left me feeling a little dazed and a lot changed." —Laura van den Berg, author of The Third Hotel and Find Me

From the freezing alleys of Chicago to the dew-blanketed bayou of Florida. From bouncing drunks and cleaning up puke to biking through the swamp laughing at peacocks. Freeze to thaw. Filth and broken glass and black water backed up in showers; lizards and Girl Scouts and themed birthday parties. A baby rat freed from the bottom of a dumpster becomes a white ibis wandering the wet driveway after a storm. Goodbye, hello, goodbye. It was the garbage times; it was time for something else. A tale of two tales, connected by a mysterious sunlit portal.

The edition is designed with tête-bêche binding as a single volume.
Praise For The Garbage Times/White Ibis: Two Novellas…
"The novellas are hilarious and unabashedly honest in showing how bizarre life is, how unpredictable people are, and yet how each person craves love, dignity, freedom—the fundamental needs we all share. . . . There is a mysterious momentum at work in the voice-driven narrative, a Murakami-like invisible hand that guides these characters with a purpose to press on. . . . His stories are unique and true and impossible to put down—what more could anyone want?" —Taylor Larsen, Los Angeles Review of Books

"The Garbage Times and White Ibis, a new pair of related novellas by Sam Pink, crackle with humanistic intimacy. . . . Pink's best writing . . . wins him fierce and cultish admiration. Part of this, I think, he owes to his chosen subject. For all the attention political theorists and commentators have lately devoted to a definition of the working class, not much fiction chronicles the sheer weirdness of working-class life and labor today. . . . He's also a keen observer of his kind, and the book brims over with the blasted personalities of Chicago's low-wage labor force. . . . The details are funny, but they never come at the characters' expense (as they do, for example, when Bukowski writes about 'subnormals'). Instead, Pink accords them a heightened humanity." —The New Republic

"The Garbage Times are followed, almost giddily, by the up-and-away of White Ibis. And in this book, Pink has done something so new, so different, that I'm struck by what a stroke of genius it was to put the Chicago book right up against it for contrast . . . The Florida book is so expansive, so wild and lovely, so full of normal-ish people and exotic animals and the oddest thing of all in a Sam Pink book—a fleeting inner calm that almost borders on happiness . . . White Ibis is so powerful and so full of hope." —Chicago Review of Books

"Between awful jobs, country club soirées, reptile shows, and an unlikely turn entertaining a troop of Girl Scouts, the narrator and his girlfriend learn to thrive in 'the theme park state.' Pink certainly gets Florida right, and his prose is wonderfully offbeat." —Publishers Weekly

"Pink keeps putting out books and I keep putting everything aside to devour them. Why? Because reading Sam Pink is entering a world where humor and absurdity constantly collide with depression and the underlying violence/violent urges hidden in everyday life. Pink can make you laugh, cringe, and delve into a philosophical rabbit hole, sometimes all within the same paragraph." —Gabino Iglesias, LitReactor

"Pink is able to convey much with the simplest phrase. The trick is, you are invited into his world. And you are not told what to think . . . I love The Garbage Times because it represents a culmination of Pink's writing to this point." —Joyless House

"White Ibis is something of a departure from Pink's oeuvre . . . as another unnamed narrator escapes from Chicago with his girlfriend to relocate to Tampa. The change of scenery, especially when put in contrast with the Chicago of The Garbage Times, feels like stepping into another dimension. Throughout both volumes, Pink's prose continues to balance between goofy nihilism and absolute sincerity. He has always been a writer deeply concerned with the forgotten and abandoned pockets of humanity and that remains true in each of these books. As the narrator of White Ibis observes, 'Not everyone has a sash full of skills and a heart full of love.'" —The Public

"These juxtaposed novellas are about how any benumbed existence, any circumstantial grind, can backfire and produce a mind, despite the will of our petty culture, despite the domestication every act of love unwittingly employs." —Full Stop

"The energy, pace and stream-of-consciousness writing in The Garbage Times/White Ibis pulls the reader along almost unconsciously. You'll find yourself digging in, hanging on to every frenetic word and turn of phrase, laughing out loud and flipping through page after page." —Popscure

"By the end of Pink's latest two-volume release, The Garbage Times/White Ibis . . . the narrator finally manages to uproot himself from Chicago, a surprising shift that results in the author's most complete, engaging, and funniest work yet." —PANK

"From early on, Pink highlights the fact that the life of an artist isn't glamourous. In the first novella, The Garbage Times, there is no lovely home, no bookshelves adorned with the all-time greats. It's Chicago in the winter. A place where everything is cold, everyone suffers, and being an artist doesn't mean you don't have to clean up puke. . . . This stage of Pink's life lacks any kind of grace, but still he weens joy from the trashy world. It's the trivial things—his daily routine getting drinks from the convenience store, his cat, the stories told by his coworkers—that all form this beautiful tapestry of sorrow. . . . The Garbage Times/White Ibis is a chaotic, dark, and hard to put down object." —Heavy Feather Review
Soft Skull, 9781593766818, 272pp.
Publication Date: May 1, 2018
About the Author
Sam Pink's books include Person, The No Hellos Diet, Hurt Others, Rontel, Witch Piss, and The Garbage Times/White Ibis. His writing has been published widely in print and on the Internet and translated into other languages. He currently lives in Michigan and sells paintings from instagram.com/sam_pink_art.
or
Not Currently Available for Direct Purchase