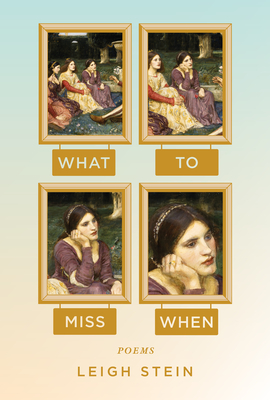 What to Miss When
Poems
Paperback

* Individual store prices may vary.
Description
Poems about pop culture, mortality, and the internet, written during the Coronavirus pandemic—for readers who are more likely to double-tap Instapoems than put their phone down long enough to read The Decameron.


Catalyzed by sheltering in place and by a personal challenge to give up alcohol for thirty days, Leigh Stein, the poet laureate of The Bachelor, has written a twenty-first-century Decameron to frame modern fables. What to Miss When makes mischief of reality TV and wellness influencers, juicy thoughtcrimes and love languages, and the mixed messages of contemporary feminism.

"Think Starlight," the first poem in this collection, written before any self-quarantine orders, imagined the likelihood that the United States would follow in Italy's footsteps in terms of caseload and hospital overwhelm. By March 17, 2020, the imagined was the real: New York City had closed schools, bars, and restaurants—with the rest of the country close behind.

With nihilist humor and controlled despair, What to Miss When explores fears of death and grocery shopping, stress cleaning and drinking, celebrities behaving badly, everything we took for granted, and life mediated by screens—with dissociation-via-internet, and looking for mirrors in a fourteenth-century pandemic text, a kind of survival response to living casually through catastrophe.
Praise For What to Miss When: Poems…
"I am so thankful for [Stein's] brain—and these poems." —Emily Burack, Alma

"Satire and humor are some of the hardest things to pull off in poetry and Stein does it wonderfully in her new book What to Miss When. These reflect our current selves, in all their online messiness and glory." —Gabriel Dozal, BOMB

"In her dazzling new collection, Leigh Stein has managed to create art from the mess of modern life, with poems both elegiac and flippant in equal measure . . . She manages to imbue each poem with just enough levity to keep the reader from losing hope. I cannot recommend this collection highly enough." —The Voracious Bibliophile

"Darkly humorous . . . Pleasantly sarcastic . . . The power in this collection lies in the way Stein serves her feelings on ice." —Library Journal

"Smart, honest, vulnerable, and really, really beautiful. It feels like the book for this exact moment." —Lynn Melnick, author of Landscape with Sex and Violence

"What To Miss When is hilarious and absolutely horrifying. If you think the quarantine habits you developed are unique and charming, read this book to be put in your place. But I beg of you, gift that to yourself, it'll make you feel less alone. 'I'm a feminist, I got the memo,' is Stein's perfect disclaimer when shouting the things so many of us are afraid to even whisper. It's a specific kind of book that helps us remember how things were, that serves as a map for our children to understand why we are the way we are. This book is one of them." —Olivia Gatwood, author of Life of the Party

"Early on in Leigh Stein's What to Miss When, the speaker says she 'must be some basic bitch to click / 'Decameron and Chill?' in Town and Country,' and we know we're in for a ride through the pandemic that has some mischief in it. It's this mischief, Stein's relentlessly refreshing humor about the 'new normal'—equal parts rueful self-deprecation and excoriating cultural critique—that makes this book such a worthy artifact of the American experience of the pandemic." —Jason Koo, founder and director of Brooklyn Poets

"I'm obsessed with this poetry collection. It seems effortless, but it's doing so much. This is the lyric as it was intended to be used: vital, urgent, pithy, granular, but at the same time, macro, historic, steeped in literary tradition but always subtly subversive." —Dr. Adam James Smith, Senior Lecturer in Eighteenth-Century English Literature, York St John University

"A strikingly effective melee of the literary and the very relatable, which is a really difficult balance to nail in trying to represent the pandemic in literary form. Remarkable, skillful, and wonderful." —Dr. Jo Waugh, Senior Lecturer, English Literature, York St John University
Soft Skull, 9781593766979, 128pp.
Publication Date: August 10, 2021
About the Author
Leigh Stein is the author of five books including the novel Self Care and the poetry collection Dispatch from the Future. She has also written for The New York Times, The Washington Post, Allure, ELLE, The Cut, Salon, and Slate. She is a recipient of an Amy Award from Poets & Writers and The Cut named her "poet laureate of The Bachelor."