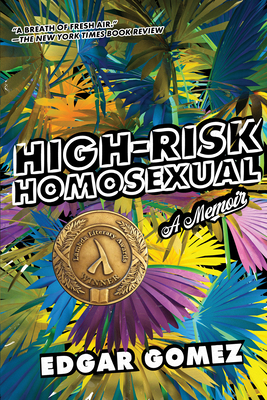 High-Risk Homosexual
A Memoir
Paperback

* Individual store prices may vary.
January 2022 Indie Next List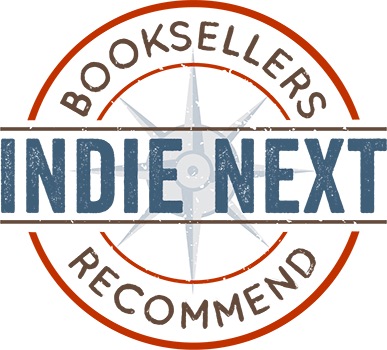 "I was shocked at how fast I read this book! It was heartbreaking and inspiring, and it felt brutally honest. One of the best coming out stories I've read. I hope Edgar Gomez keeps writing, because I want to keep reading."
— Kerry Mayer, Auntie's Bookstore, Spokane, WA
View the List
Description
This witty memoir traces a touching and often hilarious spiralic path to embracing a gay, Latinx identity against a culture of machismo—from a cockfighting ring in Nicaragua to cities across the U.S.—and the bath houses, night clubs, and drag queens who help redefine pride

I've always found the definition of machismo to be ironic, considering that pride is a word almost unanimously associated with queer people, the enemy of machistas . . . In a world desperate to erase us, queer Latinx men must find ways to hold on to pride for survival, but excessive male pride is often what we are battling, both in ourselves and in others.

A debut memoir about coming of age as a gay, Latinx man, High-Risk Homosexual opens in the ultimate anti-gay space: Edgar Gomez's uncle's cockfighting ring in Nicaragua, where he was sent at thirteen years old to become a man. Readers follow Gomez through the queer spaces where he learned to love being gay and Latinx, including Pulse nightclub in Orlando, a drag queen convention in Los Angeles, and the doctor's office where he was diagnosed a "high-risk homosexual."

With vulnerability, humor, and quick-witted insights into racial, sexual, familial, and professional power dynamics, Gomez shares a hard-won path to taking pride in the parts of himself he was taught to keep hidden. His story is a scintillating, beautiful reminder of the importance of leaving space for joy.
Praise For High-Risk Homosexual: A Memoir…
The Millions, A Most Anticipated Book of the Year
A Times of India Most Anticipated LGBTQ+ Book of the Year

"A breath of fresh air . . . Gomez writes with a humor and clarity . . . Gomez's voice is equal parts warmth and acid wit, like a good friend you're slightly afraid of . . . An exciting debut from an author with a rare point of view. High-Risk Homosexual deals with some titanic questions. What is Latinidad? What is machismo? What does it mean to be a man, never mind a queer man? By its own admission, the book doesn't have all the answers, but it makes a compelling case that they will come from the razor-sharp queers living in the margins." —John Paul Brammer, The New York Times Book Review

"Gomez explores his upbringing and coming to terms with his identity in a series of humorous essays." —Alamin Yohannes, Entertainment Weekly

"The catalogue page for this debut memoir lists a number of things you can expect to find within the book's contents. Among them are 'Maybelline foundation shade: Rich Tan,' 'A baby wailing in an ancient Jesuit language,' and 'The most famous woman in the world.' If that doesn't entice you to read Gomez's account of figuring out how to embrace his queer identity amid a culture of machismo, I'm not sure what will." —Keely Weiss, Harper's Bazaar, A Best LGBT Book of the Year

"Gorgeous and hilarious." —Sophia June, NYLON, A Most Anticipated Book

"Outstanding . . . Throughout this impressive memoir [Gomez] writes candidly and with great dexterity about the joys and fears that grounded his innocent childhood and continue to inform and empower his adulthood." —Jim Piechota, The Bay Area Reporter

"This memoir is good: author Edgar Gomez's literary wandering makes it feel much like an honest conversation with readers . . . An affable book with just enough seriousness." —Terri Schlichenmeyer, Washington Blade

"Hilarious and touching . . . Edgar Gomez's tone is personal, heartfelt, and introspective, with a healthy dose of humor." —David Vogel, BuzzFeed

"Gomez's vulnerable and humorous voice gives strength to High-Risk Homosexual. And yes, while this highly personal memoir is written through the unique lens of a femme-queer-Latinx, there is a universal narrative that will resonate with anyone who has ever felt marginalized. No matter how we identify or where we end up, ultimately, we are all high-risk, and Gomez captures this universality so well. Shantay." —Trey Burnette, Los Angeles Review of Book

"With alternating notes of gut-wrenching emotion and humor, High-Risk Homosexual chronicles not only Gomez's coming-of-age and coming out, but also his choppy navigation of a culture and family that refused to accept him . . . Gomez's incandescent prose flickers with an intensity that illuminates his insecurities, his disappointments, and his courage." —Henry L. Carrigan Jr., BookPage

"Packed with dry wit and searing cultural insight . . . A brilliant and provocative interrogation of sex, gender, race, and love." —Publishers Weekly (starred review)

"Poignant, vivid, and often hilarious, this coming-of-age memoir fearlessly explores intersectional identity and shows what it means to live and love authentically as a gay man today . . . An engagingly candid memoir from a promising young writer." —Kirkus Reviews

"High-Risk Homosexual is a keen and tender exploration of queer identity, masculinity, and belonging. From the cockfighting ring in Nicaragua, where he was taken by his uncles to learn how to be a man, to the Pulse Night Club in Orlando, where he witnesses freedom and joy on the dance floor, Edgar Gomez writes with honesty and humor about the difficulty of straddling boundaries and the courage of finding oneself. This book signals the arrival of a major new talent." —Laila Lalami, author of Conditional Citizens: On Belonging in America and The Other Americans

"High-Risk Homosexual is an absolute marvel in voice, style, and its raucous, tender, heartbreaking, compassionate, and ultimately triumphant examination of gay spaces, the politics of gender, violence against GLBTQ folks, and, of course, the human heart. Edgar Gomez is an unforgettable writer with enviously fantastic storytelling skills. You'll laugh, you'll cry, you'll rage, you'll buy this book for all of your friends." —Emily Rapp Black, author of Sanctuary and Frida Kahlo and My Left Leg

"Edgar Gomez is the chaotic queer hero we both need and deserve—with humor and charm, he tenderly leads us into night clubs, bathhouses, the backseat of cars with anonymous men, asking us to examine our current place in the world amongst the lonely and brokenhearted, the ones who dare live our truest lives. For anyone whose coming out and coming of age is messy in all the ways, let High-Risk Homosexual be a road map." —Christopher Gonzalez, author of I'm Not Hungry but I Could Eat

"High-Risk Homosexual is a vivacious, compelling, and intimate portrait about queer coming of age and finding oneself. Gomez's writing has this special way of inviting us in, like an old friend, catching us up to the pains, doldrums, and pleasures of living, reminding us at every turn of the exquisite messiness that is life. This memoir is a sheer delight, and one not to be missed." —Marcos Gonsalez, author of Pedro's Theory: Reimagining the Promised Land

"High-Risk Homosexual is like a delicious cocktail: sharp, nuanced, sweet and tender when the bite must be tempered. Edgar Gomez writes with the magnetic candor that flourishes at gay bars, with as much style as all the queens at DragCon, with observant eyes well-trained in steamy bathhouses—all of which he sketches in these electric pages. This book parses queer spaces, the queer self, with a heart as intelligent and thoughtful as its author. As he proves in his unapologetic memoir, Gomez is a force to be reckoned with." —Matt Ortile, author of The Groom Will Keep His Name
Soft Skull, 9781593767051, 304pp.
Publication Date: January 11, 2022
About the Author
Edgar Gomez is a Florida-born writer with roots in Nicaragua and Puerto Rico. A graduate of University of California, Riverside's MFA program, he is a recipient of the 2018 L. M. and Marcia McQuern Graduate Award in Non-Fiction Writing. His work has been published and anthologized widely in such outlets as Popsugar, Longreads, Narratively, The Rumpus, and Ploughshares. He lives in Queens, New York, where he is saving up for good lotion.