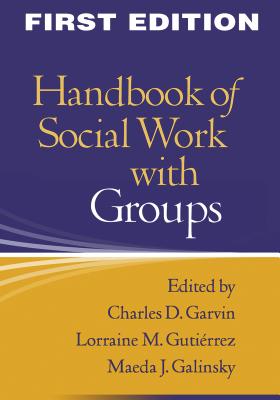 Handbook of Social Work with Groups, First Edition (Hardcover)
The Guilford Press, 9781593850043, 527pp.
Publication Date: February 24, 2004
* Individual store prices may vary.
Description
This comprehensive handbook presents major theories of social work practice with groups and explores contemporary issues in designing and evaluating interventions. Students and practitioners gain an in-depth view of the many ways that groups are used to help people address personal problems, cope with disabilities, strengthen families and communities, resolve conflict, achieve social change, and more. Offering authoritative coverage of theoretical, practical, and methodological concerns--coupled with a clear focus on empowerment and diversity--this is an outstanding text for group work and direct practice courses.
About the Author
Charles D. Garvin, PhD, is Professor Emeritus at the School of Social Work of the University of Michigan. He is the author or coauthor of Contemporary Group Work, Interpersonal Practice in Social Work, Social Work in Contemporary Society, and Generalist Practice: A Task-Centered Approach, and the coeditor of The Handbook of Social Work Direct Practice and Integrating Knowledge and Practice: The Case of Social Work and Social Science, among other works. His current research focuses on the use of group work to reduce tensions among ethnic groups and to enhance the functioning of people suffering from severe mental illness.

Lorraine M. Gutiérrez, PhD, is Professor at the School of Social Work and the Department of Psychology at the University of Michigan. Her teaching and research focus on multicultural and community organization practice. Dr. Gutierrez's current projects include identifying methods for multicultural community-based research and practice, defining multicultural education for social work practice, and identifying effective methods for learning about social justice.

Maeda J. Galinsky, PhD, is Kenan Distinguished Professor at the University of North Carolina at Chapel Hill, where she has taught social group practice at the School of Social Work for about 40 years. Dr. Galinsky is co-principal investigator of the Making Choices Project, a program aimed at the prevention of violence in elementary school children. She is currently a board member of the International Association for the Advancement of Social Work with Groups.

Praise For Handbook of Social Work with Groups, First Edition…
"This book provides an outstanding resource for group workers. Group work instructors will find the book a comprehensive text covering major theories and models of group work, as well as cutting-edge issues and techniques. The list of chapter authors is a virtual 'who's who' of social work with groups. This handbook will quickly become the major text in the field."--Richard M. Tolman, PhD, School of Social Work, University of Michigan

"A long-needed and satisfying volume from editors and contributors with varying views of the field. Covered are important theoretical perspectives on group work and group dynamics, approaches to group work in different fields of interest and with different populations, and much, much more. By including solid research findings in each chapter, and infusing the volume with clinical wisdom, the editors have helped make this one of the most complete resources of its kind."--Paul Abels, PhD, Department of Social Work (Emeritus), California State University, Long Beach

"This superb contribution to the literature assembles a roster of highly skilled social work scholars and practitioners, organizes the breadth of group work applications in a new and viable way, and makes the richness of social work knowledge available to all professionals who work with groups. An unequaled text for master's- and doctoral-level courses."--Catherine Papell, DSW, ACSW, Professor Emerita, Adelphi University School of Social Work

"It is terrific to have this [handbook] on social work with groups to use in programs at all levels and across all methods....Students will welcome the rich scholarship and the convenience and affordability of this text."
— Journal of Teaching in Social Work
"This encompassing collection reminds us how vital the healing of group work can be and how powerful it is in creating change in individuals and in communities....A rich resource for students as well as scholars."
— Social Work Forum
or
Not Currently Available for Direct Purchase