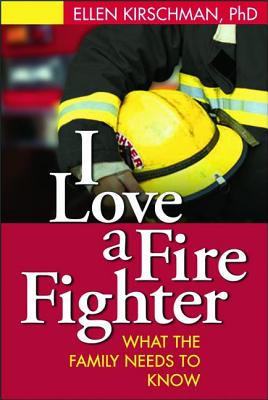 I Love a Fire Fighter
What the Family Needs to Know
Hardcover

* Individual store prices may vary.
Other Editions of This Title:
Paperback (8/12/2004)
Hardcover (6/16/2021)
Description
How can fire fighter families manage the stress that comes with life in the service? How do you keep a grip on fears and worries during long hours of separation from your spouse? Where can you turn when times get tough?
With this practical, no-nonsense, yet compassionate guide, Dr. Ellen Kirschman provides the first self-help book written to address the questions and concerns of today's fire fighter families. From the effects of shift work on your marriage, to the emotional side of physical injuries and trauma, to ways to deal with job pressures and resolve conflicts at home, read on to see what you can do to help yourself, your mate, and your children navigate the highs and lows of "the best job in the world."
Praise For I Love a Fire Fighter: What the Family Needs to Know…
"A marvelous and comprehensive look at the challenges, rewards, and resources of this remarkable industry. A 'must read' for firefighters and families alike!"--Susan Farren, author of The Fireman's Wife
"It's an awesome book, a great read for all firefighter wives!!!"--Lisa Kennedy, fire service wife, founder of www.bkfdwife.com

"Dr. Kirschman's book is a masterful integration of the challenges faced by fire fighter families and the solutions first-responder families can develop to meet these challenges. Her personal and professional experience makes this essential reading for all those in the fire fighter's support network."--Janet L. Bachant, PhD, Founder and President, New York Disaster Counseling Coalition

"Dr. Ellen Kirschman has done it again. Just as I Love a Cop did for police families, this in-depth book brings the world of fire fighting to life. Dr. Kirschman provides unique advice about relationships and family life for those who protect our safety and those who love them. A 'must-read' for fire fighter families!"--John M. Violanti, PhD, School of Public Health and Health Professions, University at Buffalo--The State University of New York

"We often hear the term 'fire family,' but until now, no one has ever stopped to examine in depth what that term really means. Dr. Kirschman offers a unique perspective on the inner workings of the fire service culture and how it affects our personal relationships. This book should be mandatory reading for everyone entering the profession, for those responsible for leading contemporary fire departments, and for chaplains and other helping professionals. Insightful, intense, and immensely valuable."--Fire Chief Ronny J. Coleman, MA, FIFireE, CFOD

"Finally, a book that offers the inside story on the highs and lows of life in the fire service. If you love a fire fighter--or are one yourself--I highly recommend this book."--S. Joseph Woodall, PhD, Retired Fire Department Captain/Recruit Training Officer and nationally certified counselor

"Important and insightful information about the successes and struggles that challenge fire fighters and their families."--Lynn A., wife of a fire fighter

"I wish I had had this book 30 years ago when my husband joined the force! It captures what you go through, from rookie to chief. A 'must read' for fire fighters and their families."--Judy G., wife of a fire fighter

"Ellen Kirschman has made a remarkable contribution to the health of firefighters and their families with this book. She blends clinical insight, real-world experiences, and practical advice to produce a volume of genuine warmth and understanding for those who devote their lives to fire and rescue work. Offering a truthful, realistic appraisal of common motivations, fears, and myths, this comprehensive resource is highly recommended for firefighters and their loved ones."--John Durkin, FireStress Solutions, UK

"This book could reduce the fire service divorce rate. It's packed with valuable insights into the way firefighters operate and the absolute value and support that families give unconditionally. Finally, an acknowledgement of the unsung heroes of the fire service--the wives, husbands, kids and parents. This is an essential resource for all of us in the fire service who juggle family and work life."--Tim Hoy, Station Officer, London Fire Brigade, and UK Secretary, International Register of Firefighters with Diabetes
"You couldn't have hit the nail on the head any better! As I was reading, I found myself laughing, crying, and nodding at many of the things in the book. I know that this will become a 'guide' to me through the many interesting and confusing and, most likely, hair-pulling times in our life. Thank you once again!"--Cassie E. Norman, firefighter fiancée, Yorktown, Virginia
"I have studied the fire service for over 40 years; the first thirty as a fire fighter and the last ten as an academic. The voices and experiences of real fire service families ring out loud and clear from this well-researched, well-written book. Dr. Kirschman demonstrates a solid understanding of the issues that face fire fighters today. This is an essential tool for fire service families, as well as a great read."--Dave Baigent, PhD, former fire fighter and Director, Fire Service Research and Training Unit, Anglia Polytechnic University
"Dr. Kirschman would be most welcome in my firehouse anytime, for she has a keen overall sense of both fire fighting and the fire fighter. Just as it is not easy to be a fire fighter, it is not easy to be a part of the fire fighter's family either, for the dangers, the issues, and the culture that comes with working in a firehouse are different from the normal workplace. Dr. Kirschman brings the reader to a solid understanding of these differences and how to adjust to them. This is more than an advice book: it is a usable guide which includes lists of important and helpful organizations that support fire fighters.
I Love a Fire Fighter
is a great gift to pass around the family, and also around the firehouse, for it is meant to bring people closer together. I can tell you that it succeeds."--Dennis Smith, retired New York City fire fighter, founder of
Firehouse Magazine
, and author of
Report from Ground Zero
"A very welcome resource for the fire service. Every fire recruit should give a copy to his or her family on the first day of training."
— FireWork (Newsletter of the Int. Ass. of Women in Fire and Emergency Services)
The Guilford Press, 9781593850845, 299pp.
Publication Date: August 11, 2004
About the Author
Ellen Kirschman, PhD, is a clinical psychologist, volunteer clinician at the First Responder Support Network, and sought-after speaker and workshop facilitator. Dr. Kirschman is a recipient of the Award for Outstanding Contributions to Police and Public Safety Psychology from the Police and Public Safety Section of Division 18 (Psychologists in Public Service) of the American Psychological Association and the Distinguished Contribution to Psychology award from the California Psychological Association. She is coauthor of a book for mental health professionals, Counseling Cops, and author of the self-help guides I Love a Cop, Third Edition, and I Love a Fire Fighter, as well as the mystery novels Burying Ben, The Right Wrong Thing, and The Fifth Reflection. She lives in Redwood City, California. Her website is www.ellenkirschman.com.
or
Not Currently Available for Direct Purchase