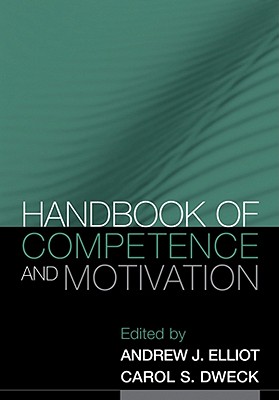 Handbook of Competence and Motivation, First Edition
Hardcover

* Individual store prices may vary.
Other Editions of This Title:
Paperback (7/2/2007)
Description
This important handbook provides a comprehensive, authoritative review of achievement motivation and establishes the concept of competence as an organizing framework for the field. The editors synthesize diverse perspectives on why and how individuals are motivated in school, work, sports, and other settings. Written by leading investigators, chapters reexamine central constructs in achievement motivation; explore the impact of developmental, contextual, and sociocultural factors; and analyze the role of self-regulatory processes. Focusing on the ways in which achievement is motivated by the desire to experience competence and avoid experiencing incompetence, the volume integrates disparate theories and findings and sets forth a coherent agenda for future research.
Praise For Handbook of Competence and Motivation, First Edition…
"This magnificent review and analysis of every aspect of achievement motivation brings together the work of widely recognized experts. The Handbook is an incredible resource for anyone interested in motivation, and an excellent volume to draw from for college teaching."--Deborah J. Stipek, PhD, Stanford University School of Education

"Without question, this handbook represents a landmark effort! It is a timely contribution to the study of motivation, the development of competence, and the nature and causes of achievement. This marvelous presentation of research findings and theoretical perspectives will stand for some time as a major resource for those working in the field. It is sure to prompt and profoundly shape future research in the area."--Martin L. Maehr, PhD, Department of Psychology and School of Education, University of Michigan

"This is the most authoritative and up-to-date presentation available of theory and research on a vital topic in social and personality psychology. The editors have done an admirable job in pulling together diverse strands of work under a coherent conceptual umbrella, providing an illuminating historical and contemporary perspective on an aspect of the human psyche that constitutes a major force in 'making the world go round.' Should be of considerable relevance to advanced undergraduates, graduate students, and researchers in social, developmental, and personality psychology, as well as their counterparts in economics, business, sociology, and political science."--Arie W. Kruglanski, PhD, Department of Psychology, University of Maryland


"The editors have done an admirable job of providing a comprehensive overview of the literature while pulling it together within an integrated conceptual framework.....It is a good sourcebook for researchers, educators, clinicians, and advanced students....This comprehensive book is thought-provoking. The editors have gathered a diverse group of experts who illuminate processes and constructs that are germane to cognitive therapy researchers and practitioners."
— Cognitive Behavioral Therapy Book Reviews

"Each contributor is able to present his or her area of expertise, while at the same time making it clear why competence is important to that area....A wonderful text for either an advanced seminar or a graduate course dedicated to the topic of motivation."
— PsycCRITIQUES
The Guilford Press, 9781593851231, 704pp.
Publication Date: April 4, 2005
About the Author
Andrew J. Elliot, PhD, is Professor of Psychology at the University of Rochester, and is currently an associate editor of the Personality and Social Psychology Bulletin and a section editor of Social and Personality Psychology Compass. Dr. Elliot has published approximately 100 scholarly works, has received research grants from public and private agencies, and has been awarded four different early- and mid-career awards for his research contributions. His research areas include achievement and affiliation motivation; approach-avoidance motivation; personal goals; subjective well-being; and parental, teacher, and cultural influences on motivation and self-regulation.
Carol S. Dweck, PhD, is the Lewis and Virginia Eaton Professor of Psychology at Stanford University, and has published significant work in the area of achievement motivation since the early 1970s. Dr. Dweck is one of the first researchers linking attributions to patterns of achievement motivation, an originator of achievement goal theory, and a pioneer in the area of self-theories of motivation. Her recent books include Self-Theories: Their Role in Motivation, Personality, and Development; Motivation and Self-Regulation across the Lifespan (coedited with Jutta Heckhausen); and Mindset: The New Psychology of Success. Her research is extensively cited in social, developmental, personality, and educational psychology.
or
Not Currently Available for Direct Purchase