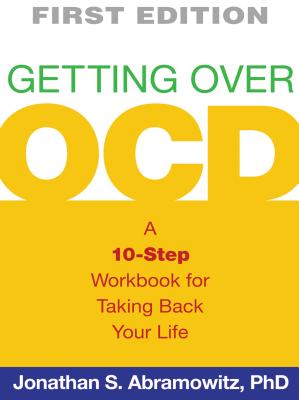 Getting Over OCD: A 10-Step Workbook for Taking Back Your Life (Paperback)
A 10-Step Workbook for Taking Back Your Life
Guilford Publications, 9781593859992, 307pp.
Publication Date: June 1, 2009
Description
Just imagine: No more obsessional thoughts and compulsive behaviors. No more planning your day around avoiding certain situations. You can get over OCD--and join the thousands of people who are living freer, happier lives thanks to the clinically proven strategies in this book. Noted OCD specialist Dr. Jonathan Abramowitz provides the information, support, and practical tools you need to:

*Understand your obsessions, compulsions, and rituals
*Develop a customized action plan
*Take gradual steps to safely confront--and master--the situations you avoid
*Find relief from intrusive thoughts, no matter how distressing
*Overcome compulsion urges
*Reduce anxiety and improve your relationships

Based on cognitive-behavioral therapy, the most effective treatment for OCD, the workbook's carefully sequenced exercises are illustrated with detailed examples. Ready to get over OCD? Your journey starts here.

Association for Behavioral and Cognitive Therapies (ABCT) Self-Help Book of Merit
About the Author
Jonathan S. Abramowitz, PhD, is Professor and Associate Chair of Psychology, Research Professor of Psychiatry, and Director of the Anxiety and Stress Disorders Clinic at the University of North Carolina at Chapel Hill. Dr. Abramowitz founded and directed the OCD and Anxiety Disorders Program at the Mayo Clinic in Rochester, Minnesota. An award-winning researcher, he serves on the Scientific Advisory Board of the International Obsessive-Compulsive Disorder Foundation and is Editor-in-Chief of the Journal of Obsessive-Compulsive and Related Disorders. He lives in Chapel Hill with his wife and two daughters.
Advertisement