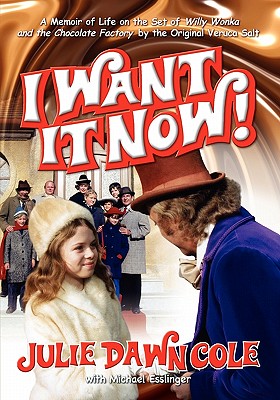 I Want It Now! a Memoir of Life on the Set of Willy Wonka and the Chocolate Factory
Paperback

* Individual store prices may vary.
Other Editions of This Title:
Hardcover (1/27/2016)
Description
In 1970, Julie Dawn Cole was cast as the unforgettable Veruca Salt in the classic motion picture Willy Wonka and the Chocolate Factory with Gene Wilder. Since its release in 1971, this epic musical has endured as a favorite of children from around the world with a fan base that encompasses generations of movie goers. With its unforgettable characters, chocolaty landscapes and everlasting music, this charming fairy-tale mixes these ingredients into what has been become a cinematic classic from literary legend Roald Dahl. Praised by critics worldwide and often featured in broadcasts with other masterpiece musicals, it remains a timeless treasure. Acclaimed film critic Robert Ebert wrote: "Willy Wonka and the Chocolate Factory is probably the best film of its sort since The Wizard of Oz. It is everything that family movies usually claim to be, but aren't: Delightful, funny, scary, exciting, and, most of all, a genuine work of imagination." Julie Dawn Cole has written an enchanting and richly illustrated memoir that offers a rare look behind the stage curtain to this ageless film. Splendidly illustrated with personal letters, never-seen-before photographs and documents; her mesmerizing story chronicles the entire production experience and tells of the remarkable journey of how she became known worldwide as a really bad egg. Filled with countless funny and touching memories, her story takes readers behind-the-scenes of Willy Wonka and the resulting coming of age journey that brought the cast together again after nearly a quarter century. I Want it Now takes readers beyond the world of pure imagination and behind the scenes to this universally cherished motion picture. A true-to-life Charlie Bucket tale, Julie's story is unforgettable...
BearManor Media, 9781593930745, 252pp.
Publication Date: February 22, 2011