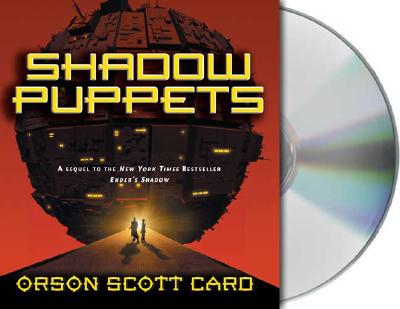 Shadow Puppets (Compact Disc)
Macmillan Audio, 9781593974824
Publication Date: July 24, 2007
Other Editions of This Title:
Digital Audiobook (9/26/2002)
Mass Market (6/16/2003)
Prebound (6/1/2003)
Hardcover (8/19/2002)
Leather (9/1/2002)
Pre-Recorded Audio Player, Abridged (8/1/2012)
* Individual store prices may vary.
Description
Bestselling author Orson Scott Card brings to life a new chapter in the saga of Ender's Earth and The Shadow Series.
Earth and its society have been changed irrevocably in the aftermath of Ender Wiggin's victory over the Formics. The unity forced upon the warring nations by an alien enemy has shattered. Nations are rising again, seeking territory and influence, and most of all, seeking to control the skills and loyalty of the children from the Battle School.

But one person has a better idea. Peter Wiggin, Ender's older, more ruthless, brother, sees that any hope for the future of Earth lies in restoring a sense of unity and purpose. And he has an irresistible call on the loyalty of Earth's young warriors. With Bean at his side, the two will reshape our future.

Shadow Puppets is the continuing story of Bean and Petra, and the rest of Ender's Dragon Army, as they take their places in the new government of Earth.
About the Author
Orson Scott Card is best known for his science fiction novel "Ender's Game" and it's many sequels that expand the Ender Universe into the far future and the near past. Those books are organized into the Ender Quintet, the five books that chronicle the life of Ender Wiggin; the Shadow Series, that follows on the novel "Ender's Shadow" and are set on Earth; and the Formic Wars series, written with co-author Aaron Johnston, that tells of the terrible first contact between humans and the alien "Buggers."

Card has been a working writer since the 1970s. Beginning with dozens of plays and musical comedies produced in the 1960s and 70s, Card's first published fiction appeared in 1977 -- the short story "Gert Fram" in the July issue of "The Ensign," and the novelet version of "Ender's Game" in the August issue of "Analog." The novel-length version of "Ender's Game," published in 1984 and continuously in print since then, became the basis of the 2013 film, starring Asa Butterfield, Harrison Ford, Ben Kingsley, Hailee Steinfeld, Viola Davis, and Abigail Breslin. Card was born in Washington state, and grew up in California, Arizona, and Utah. He served a mission for the LDS Church in Brazil in the early 1970s. Besides his writing, he runs occasional writers' workshops and directs plays. He frequently teaches writing and literature courses at Southern Virginia University.

He is the author many sf and fantasy novels, including the American frontier fantasy series "The Tales of Alvin Maker" (beginning with "Seventh Son"), There are also stand-alone science fiction and fantasy novels like "Pastwatch" and "Hart's Hope." He has collaborated with his daughter Emily Card on a manga series, Laddertop. He has also written contemporary thrillers like "Empire" and historical novels like the monumental "Saints" and the religious novels "Sarah" and "Rachel" and "Leah." Card's recent work includes the Mithermages books ("Lost Gate," "Gate Thief"), contemporary magical fantasy for readers both young and old. Card lives in Greensboro, North Carolina, with his wife, Kristine Allen Card, He and Kristine are the parents of five children and several grandchildren. Scott Brick has performed on film, television and radio. He appeared on stage throughout the United States in productions of "Cyrano," "Hamlet," "Macbeth" and other plays. In addition to his acting work, Scott choreographs fight sequences, and was a combatant in films including Romeo and Juliet, The Fantasticks and Robin Hood: Men in Tights. He has also been hired by Morgan Freeman to write the screenplay adaptation of Arthur C. Clarke's "Rendezvous with Rama." Scott first began narrating audiobooks in 2000, and after recording almost 400 titles in five years, "AudioFile" magazine named Scott a Golden Voice and "one of the fastest-rising stars in the audiobook galaxy." He has read a number of titles in Frank Herbert's bestselling Dune series, and he won the 2003 Science Fiction Audie Award for "Dune: The Butlerian Jihad." He has also won over 40 "AudioFile" Earphones Awards. In 2007, Scott was named "Publishers Weekly"'s Narrator of the Year. Stefan Rudnicki was born in Poland and now resides in Studio City, California. He has narrated more than 100 audiobooks, and has participated in more than a thousand as a narrator, writer, producer, or director. He is a recipient of multiple Audie Awards and "AudioFile" Earphones Awards as well as a Grammy Award as an audiobook producer. Along with casts of other narrators, Stefan has read a number of Orson Scott Card's best-selling science fiction novels, published by Macmillan Audio. In reviewing the 20th anniversary edition audiobook of Card's "Ender's Game," "Publishers Weekly" stated, "Card's phenomenal emotional depth comes through in the quiet, carefully paced speech of each performer...In particular, Rudnicki, with his lulling, sonorous voice, does a fine job articulating Ender's inner struggle between the kind, peaceful boy he wants to be and the savage, violent actions he is frequently forced to take. This is a wonderful way to experience Card's best-known and most celebrated work, both for longtime fans and for newcomers." David Birney is an award-winning actor and director. He has also starred in many television films, among them Love and Betrayal, Long Journey Home, The Deadly Game, High Midnight, and The Champions. His extensive stage credits include starring roles on Broadway and major roles at the American Shakespeare Festival, New York's Lincoln Center Repertory Theatre, the New York Shakespeare Festival, Los Angeles' Mark Taper Forum, Washington, D.C.'s Shakespeare Theatre and numerous regional theatres. His audiobook credits include narrating several Orson Scott Card books as well as reading for several "AudioFile" Earphones Award winning titles. Gabrielle de Cuir is a Grammy-nominated and Audie Award-winning producer whose narrating credits include the voice of Valentine in Orson Scott Card's Ender novels, Ursula K. Le Guin's "The Tombs of Atuan," and Natalie Angier's "Woman," for which she was awarded "AudioFile" magazine's Golden Earphones. She lives in Los Angeles where she also directs theatre and presently has several projects in various stages of development for film.
Praise For Shadow Puppets…
"The ideal presentation of any book of mine is to have excellent actors perform it in audio format." —Orson Scott Card from the afterword of Ender's Game
"The folks at Audio Renaissance have quite literally brought greatness to the text. They've included an introduction and a postscript read by Card himself, both of which place the novel and the audiobook in its context as well as enlightening us to the author's method of its construction. Multiple readers led by Stefan Rudnicki work perfectly to vocally illustrate each chapter, character and scene." —Science Fiction and Fantasy on Ender's Game(A Science Fiction and Fantasy Essential) "David Birney's voice sounds purposefully fatigued, beautifully conveying the world leader Peter Wiggin's frustrated resignation, and Stefan Rudnicki's clipped, low baritone is perfect for the cloack-and-dagger email correspondence that bookends the chapters.  Gabrielle de Cuir expertly handles both accents and emotion...[Scott Brick] tackles the Bean chapters with the youthful cynicism and passion that Bean embodies in this book, capturing the character's voice with wonderful passion.  These four narrators come together to create a wholly satisfying and engrossing listening experience." - AudioFile
or
Not Currently Available for Direct Purchase