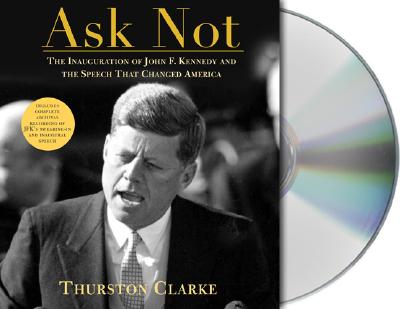 Ask Not
The Inauguration of John F. Kennedy and the Speech That Changed America
Compact Disc, Abridged

* Individual store prices may vary.
Other Editions of This Title:
Audio Cassette, Abridged, Abridged (9/9/2004)
Description
A close-up on one of American history's most splendid events, JFK's inaugural week, and the creation of the speech that inspired a generation and brought hope to a nation
"Ask not what your country can do for you, but what you can do for your country." On the January morning when John F. Kennedy assumed the presidency and stood to speak those words, America was divided. Citizens around the world were torn by fears of war. Kennedy's speech—called the finest since Lincoln at Gettysburg, the most memorable of any 20th-century American politician—did more than reassure: It changed lives, marking the start of a brief, optimistic era of struggle against "tyranny, poverty, disease, and war itself."
Ask Not is a beautifully detailed account of the week leading up to the inaugural which stands as one of the most moving spectacles in the history of American politics. At the heart of the narrative is Kennedy's quest to create a speech that would distill American dreams and empower a new generation. Clarke's portrait of JFK during what intimates called his happiest days is balanced, revealing the president at his most dazzlingly charismatic (and cunningly pragmatic). As the snow gradually covers Washington in a blanket of white, as statesmen and celebrities arrive for candle-lit festivities, Kennedy—an obsessed perfectionist—pushes himself, his family, and advisors to the limit—to create greatness, to find the words which captured what he most truly believed and, as it happened, which far outlasted his own life. For all who seek to understand the fascination with all things Kennedy, the answer is here. Ask Not explains the phenomenon to the heart and mind.
Praise For Ask Not: The Inauguration of John F. Kennedy and the Speech That Changed America…
"Thurston Clarke's meticulous research uncovers many fascinating nuggets, including the debunking of the popular myth tha Ted Sorenson was the primary author of the speech. Read with just the right senes of nobility by Edward Herrmann, this audiobook offers something the print version can't--a recording of the actual JFK speech interspersed with play-by-play commentary" AudioFile
Macmillan Audio, 9781593975517
Publication Date: September 9, 2004
About the Author
THURSTON CLARKE has written nine books of fiction and non-fiction, including "Pearl Harbor Ghosts" and "California Fault," a "New York Times" notable book. His articles have been published in "Vanity Fair," "Glamour," "The New York Times," and "The Washington Post." He is the recipient of a Guggenheim Fellowship and received the Lowell Thomas Award for travel literature.
or
Not Currently Available for Direct Purchase