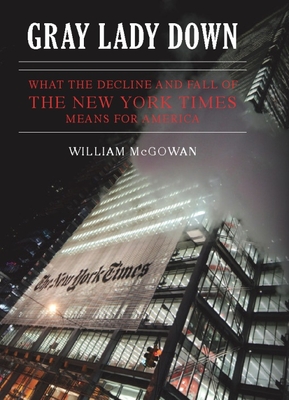 Gray Lady Down (Hardcover)
What the Decline and Fall of the New York Times Means for America
Encounter Books, 9781594034862, 276pp.
Publication Date: November 16, 2010
* Individual store prices may vary.
Description
The New York Times was once considered the gold standard in American journalism and the most trusted news organization in America. Today, it is generally understood to be a vehicle for politically correct ideologies, tattered liberal pieties, and a repeated victim of journalistic scandal and institutional embarrassment. In Gray Lady Down, the hard-hitting follow up to Coloring the News, William McGowan asks who is responsible for squandering the finest legacy in American journalism. Combining original reporting, critical assessment and analysis, McGowan exposes the Times' obsessions with diversity, "soft" pop cultural news, and countercultural Vietnam-era attitudinizing, and reveals how these trends have set America's most important news icon at odds with its journalistic mission--and with the values and perspectives of much of mainstream America. Gray Lady Down considers the consequences--for the Times, for the media, and, most important, for American society and its political processes at this fraught moment in our nation's history. In this highly volatile media environment, the fate of the Times may portend the future of the fourth estate.

About the Author
William McGowan is the author of Only Man Is Vile: The Tragedy of Sri Lanka (Farrar, Straus & Giroux) and Coloring The News: How Political Correctness Has Corrupted American Journalism (Encounter Books) for which he won a National Press Club Award in 2002. A former editor at the Washington Monthly, he has reported for Newsweek International and the BBC and has written for the New York Times Magazine, the Washington Post, the New Republic, Columbia Journalism Review and many other national publications. A regular contributor to the Wall Street Journal, he has been a frequent commentator on MSNBC, Fox News, CNN, NPR, Court TV as well as other cable and broadcast networks. A former Senior Fellow at the Manhattan Institute, he is currently a Media Fellow at the Social Philosophy and Policy Center. He lives in New York City.
or
Not Currently Available for Direct Purchase