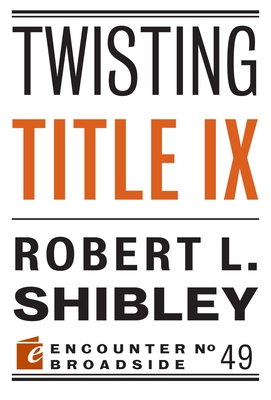 Twisting Title IX (Encounter Broadsides)
Paperback

* Individual store prices may vary.
Description
This is the story of how Title IX, a 1972 law intended to ban sex discrimination in education, became a monster that both the federal government and many college administrators treat as though it supersedes both the U.S. Constitution and hundreds of years of common law. It's a story about the victims of this law--men and women both--and of the unaccountable government bureaucrats at the Departments of Education and Justice who repeatedly prioritize an extreme brand of politics over free speech, fundamental fairness, and basic human decency. But while help may come too late for many of the present victims of Title IX abuse, there are still measures that colleges and courts can take to curb these abuses until Congress acts--or we see a Presidential administration that cares more about restoring justice and the rule of law than it does about sex and gender politics.
Encounter Books, 9781594039218, 48pp.
Publication Date: September 27, 2016
About the Author
Robert L. Shibley is executive director of the Foundation for Individual Rights in Education (FIRE). A native of Toledo, Ohio, he is a graduate of Duke University and Duke University School of Law. Robert's undergraduate experience serving as the managing editor of the campus conservative newspaper, which frequently decried (and faced) administrative censorship and bias, led him to a career defending the rights of college and university students and faculty members. Over the last 13 years, Robert has aided students and faculty members at hundreds of colleges and universities. He has discussed free speech and due process issues in national and international radio and TV interviews, including The O'Reilly Factor and CNN Tonight with Don Lemon, as well as in published op-eds in USA Today, the Washington Post, and many other newspapers and magazines. Robert and his wife Araz live in North Carolina with their two daughters.