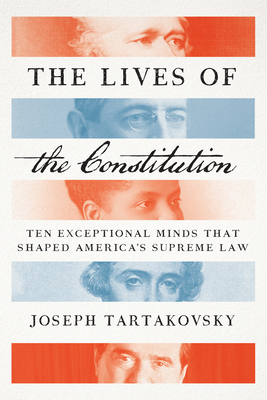 The Lives of the Constitution (Hardcover)
Ten Exceptional Minds That Shaped America's Supreme Law
Encounter Books, 9781594039850, 320pp.
Publication Date: April 10, 2018
Other Editions of This Title:
Paperback (10/8/2019)
* Individual store prices may vary.
Description
In a fascinating blend of biography and history, Joseph Tartakovsky tells the epic and unexpected story of our Constitution through the eyes of ten extraordinary individuals--some renowned, like Alexander Hamilton and Woodrow Wilson, and some forgotten, like James Wilson and Ida B. Wells-Barnett. Tartakovsky brings to life their struggles over our supreme law from its origins in revolutionary America to the era of Obama and Trump. Sweeping from settings as diverse as Gold Rush California to the halls of Congress, and crowded with a vivid Dickensian cast, Tartakovsky shows how America's unique constitutional culture grapples with questions like democracy, racial and sexual equality, free speech, economic liberty, and the role of government. Joining the ranks of other great American storytellers, Tartakovsky chronicles how Daniel Webster sought to avert the Civil War; how Alexis de Tocqueville misunderstood America; how Robert Jackson balanced liberty and order in the battle against Nazism and Communism; and how Antonin Scalia died warning Americans about the ever-growing reach of the Supreme Court. From the 1787 Philadelphia Convention to the clash over gay marriage, this is a grand tour through two centuries of constitutional history as never told before, and an education in the principles that sustain America in the most astonishing experiment in government ever undertaken.
About the Author
Joseph Tartakovsky is the James Wilson Fellow in Constitutional Law at the Claremont Institute for the Study of Statesmanship and Political Philosophy. His writing has appeared in the New York Times, Wall Street Journal, and Los Angeles Times, among other publications. As a lawyer, he has served as the Deputy Solicitor General of Nevada, a white-collar criminal litigator at an international law firm, and as a law clerk to a federal appellate judge.