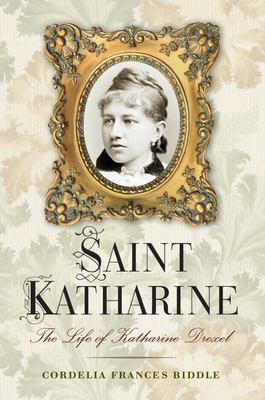 Saint Katharine
The Life of Katharine Drexel
Hardcover

* Individual store prices may vary.
Other Editions of This Title:
Paperback (9/4/2015)
Description
A Gilded-Age Woman Who Devoted Her Life and Fortune to the American Dispossessed, Established Her Own Religious Order, and Was Ultimately Canonized
When Katharine Drexel was born in 1858, her grandfather, financier Francis Martin Drexel, had a fortune so vast he was able to provide a loan of sixty million dollars to the Union's cause during the Civil War. Her uncle and mentor, Anthony, established Drexel University to provide instruction to the working class regardless of race, religion, or gender. Her stepmother was Emma Bouvier whose brother, John, became the great-grandfather of Jacqueline Bouvier Kennedy Onassis. Katharine Drexel's family were American royalty. As a Philadelphia socialite, "Kitty," as she was often called, adored formal balls and teas, rowing regattas, and sailing races. She was beautiful, intelligent, and high-spirited. But when her stepmother died in 1883, and her father two years later, a sense of desolation nearly overwhelmed her. She was twenty-seven and in possession of a staggering inheritance. Approached for aid by the Catholic Indian Missions, she surprised her family by giving generously of money and time. It was during this period of acute self-examination that she journeyed to Rome for a private audience with Pope Leo XIII. With characteristic energy and fervor, she detailed the plight of the Native Americans, and begged for additional missionaries to serve them. His reply astonished her. "Why not, my child, yourself become a missionary?"
In Saint Katharine: The Life of Katharine Drexel, Cordelia Frances Biddle recounts the extraordinary story of a Gilded Age luminary who became a selfless worker for the welfare and rights of America's poorest persons. After years of supporting efforts on behalf of African Americans and American Indians, Katharine finally decided to follow her inner voice and profess vows. The act made headlines. Like her father and grandfather, she was a shrewd businessperson; she retained her financial autonomy and established her own order, the Sisters of the Blessed Sacrament. Until her death in 1955, she devoted herself and her inheritance to building much-needed schools in the South and Southwest, despite threats from the Ku Klux Klan and others. Pragmatic, sometimes willful, ardent, and a charismatic leader, Katharine Drexel was an indefatigable champion of justice and parity. When illness incapacitated her in later years, divine radiance was said to emanate from her, a radiance that led to her canonization on October 1, 2000.
Praise For Saint Katharine: The Life of Katharine Drexel…
"Powerful and profoundly moving, Saint Katharine is a book of rich and lively scholarship and of deeply felt devotion. You will not be able to put it down." —Donald Spoto, author of Reluctant Saint: The Life of Francis of Assisi
"Biddle is a scrupulous researcher, but maintains a refreshingly lucid, readable style."—Publishers Weekly
"In Saint Katharine, Cordelia Biddle brilliantly portrays Katharine Drexel emerging from the world of banking, debutante parties, estates, and pleasure cruises, into a life of relentless work on behalf of the impoverished and uneducated. Born to wealth, she offered herself and everything she owned to the poor. Shaped by nineteenth-century Philadelphia, she became a figure for all time." —Jeanne Murray Walker, author of The Geography of Memory
Westholme Publishing, 9781594162114, 296pp.
Publication Date: November 5, 2014
About the Author
CORDELIA FRANCES BIDDLE teaches creative writing at Drexel University's Pennoni Honors College and received the college's Outstanding Teaching Award in 2012. A member of the Authors Guild, she is the author of Beneath the Wind, Without Fear, Deception's Daughter, and The Conjurer. She has contributed to Town and Country, Hemispheres, and W, and won the 1997 SATW Lowell Thomas travel-writing award for "Three Perfect Days in Philadelphia." She is a descendant of Francis Martin Drexel, grandfather of Saint Katharine Drexel.
or
Not Currently Available for Direct Purchase