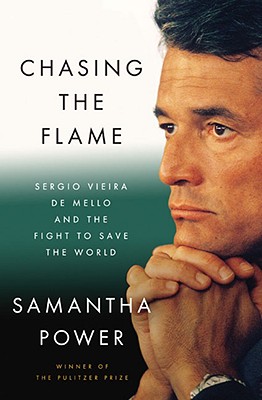 Chasing the Flame
Sergio Vieira de Mello and the Fight to Save the World
Hardcover

* Individual store prices may vary.
Other Editions of This Title:
Hardcover (8/8/2015)
Paperback (12/2/2008)
Paperback (2/14/2015)
Paperback (3/1/2009)
Paperback (8/1/2011)
Description
From Pulitzer Prize winner Samantha Power, an epic tale-part thriller, part tragedy-for our age, the political career and tragic death of the incomparable humanitarian Sergio Vieira de Mello

If there is a single individual who can be said to have been at center stage through all of the most significant humanitarian and geopolitical crises of the late twentieth and early twenty-first century, it was Sergio Vieira de Mello. Vieira de Mello was born in 1948 just as the post-World War II order was taking shape. He died in a terrorist attack on UN Headquarters in Iraq in 2003 as the battle lines in the twenty-first-century's first great power struggle were being drawn. In nearly four decades of work for the United Nations, Sergio distinguished himself as the consummate humanitarian, able to negotiate with-and often charm-cold war military dictators, Marxist jungle radicals, reckless warlords, and nationalist and sectarian militia leaders. By taking the measure of this remarkable man's life and career, Power offers a fascinating answer to the question: Who possesses the moral authority, the political sense, and the military and economic heft to protect human life and bring peace to the unruly new world order?

Chasing the Flame brings us deep into the thorniest, least well- understood episodes of recent world history-the conflagration in the Middle East, through Vieira de Mello's troubleshooting in Lebanon in the aftermath of Israel's 1982invasion; the clean-up of the cold war's residue, through Vieira de Mello's taming of the Khmer Rouge and his repatriation of four-hundred-thousand Cambodian refugees in the early nineties; the explosion of sectarian and ethnic militancy, through his efforts to negotiate an end to the slaughter in Bosnia; the struggle to nation-build in war-torn societies, through his quasi-colonial governorships of Kosovo and East Timor; and the engulfing of Iraq in civil war and terror, through his tragic final posting as the UN representative in Baghdad, where he became the victim of the country's first-ever suicide bomb.

Readers of Chasing the Flame will recognize the particular mixture of deep reporting and incisive analysis that Power uses to imbue Sergio's life with significance, and lessons, for our own. In this exquisitely reasoned and imagined book, Samantha Power reveals Sergio Vieira de Mello's powerful legacy of humanity and ideological strength in an age sorely in need of both.
Penguin Press HC, The, 9781594201288, 640pp.
Publication Date: February 14, 2008
or
Not Currently Available for Direct Purchase