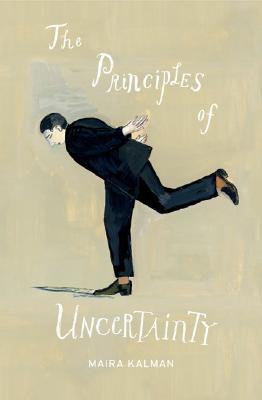 The Principles of Uncertainty (Hardcover)
Penguin Press, 9781594201349, 336pp.
Publication Date: October 18, 2007
* Individual store prices may vary.
Description
Maira Kalman paints her highly personal worldview in an inimitable combination of image and text.

The Principles of Uncertainty is an irresistible invitation to experience life through the psyche of Maira Kalman, one of this country's most beloved artists. The result is a book that is part personal narrative, part documentary, part travelogue, part chapbook, and all Kalman. Her brilliant, whimsical paintings, ideas, and images-which initially appear random-ultimately form an intricately interconnected worldview, an idiosyncratic inner monologue. Kalman contends with some existential questions-What is identity? What is happiness? Why do we fight wars? And then, of course, death, love, and candy (not necessarily in that order).

The tremendous success of Kalman's 2005 illustrated edition of Strunk and White's The Elements of Style established her as an original, inspirational voice, and the quirky, hilarious, heartbreaking style of The Principles of Uncertainty reveals Maira Kalman for what she truly is: a national treasure.
About the Author
In her own words: "born. bucolic childhood. culture-stuffed adolescence. played piano. stopped. danced. stopped. wrote. discarded writing. drew. reinstated writing. married Tibor Kalman and collaborated at iconoclastic yet successful design studio. wrote and painted children's books. worried. took up Ping-Pong. relaxed. wrote and painted for many magazines.  cofounded the Rubber Band Society. amused. children: two. dog: one."
Praise For The Principles of Uncertainty…
"Sublime…  Kalman's elegantly witty and at times melancholy narrative runs arm in arm with her unmistakable paintings on a serendipitous romp through the history of the world."—Vanity Fair
 
"Wildly original…there's nothing else even remotely like it… This hilarious, wise, and deeply moving volume [is] the ultimate picture book for grown-ups."—O Magazine
 
"An odd treasure."—Ariel Levy, The New York Times Book Review
 
"Within this work, as much literary as artistic, one finds the assurance (the certainty!) that the human condition is inescapable but not insurmountable."—The New York Observer
 
"In her distinctive, muscularly whimsical paintings with sad-funny handwritten annotations, Kalman encounters, well, everything…More personal than much of her previous work, the book is simultaneously idiosyncratic and universal.  And utterly lovable." —Culture + Travel
 
"This is a unique, warmly intelligent book for the enjoyment of artists, writers and anyone who delights in works of genuine imagination."—L.K. Hanson, Minnesota Star Tribune
 
"My absolute favorite book of recent memory: an exquisite and delightful and peculiarly illustrated memoir about…well, the search for the meaning of life. I will be giving this book to everyone I know." —Elizabeth Gilbert, author of Eat, Pray, Love