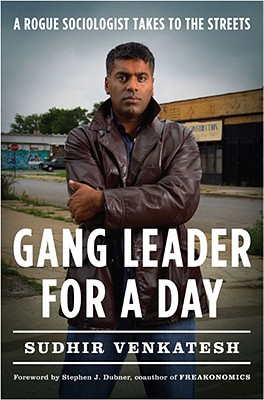 Gang Leader for a Day
A Rogue Sociologist Takes to the Streets
Hardcover

* Individual store prices may vary.
Other Editions of This Title:
Paperback (12/30/2008)
Paperback, Chinese (8/10/2015)
Description
First introduced in "Freakonomics," here is the full story of Sudhir Venkatesh, the sociology grad student who infiltrated one of Chicago's most notorious gangs
The story of the young sociologist who studied a Chicago crack-dealing gang from the inside captured the world's attention when it was first described in "Freakonomics." "Gang Leader for a Day" is the fascinating full story of how Sudhir Venkatesh managed to gain entrance into the gang, what he learned, and how his method revolutionized the academic establishment.
When Venkatesh walked into an abandoned building in one of Chicago's most notorious housing projects, he was looking for people to take a multiple-choice survey on urban poverty. A first-year grad student hoping to impress his professors with his boldness, he never imagined that as a result of the assignment he would befriend a gang leader named JT and spend the better part of a decade inside the projects under JT's protection, documenting what he saw there.
Over the next seven years, Venkatesh got to know the neighborhood dealers, crackheads, squatters, prostitutes, pimps, activists, cops, organizers, and officials. From his privileged position of unprecedented access, he observed JT and the rest of the gang as they operated their crack-selling business, conducted PR within their community, and rose up or fell within the ranks of the gang's complex organizational structure.
In Hollywood-speak, "Gang Leader for a Day" is "The Wire" meets Harvard University. It's a brazen, page turning, and fundamentally honest view into the morally ambiguous, highly intricate, often corrupt struggle to survive in what is tantamount to an urban war zone. It is also the story of a complicated friendship between Sudhir and JT-two young and ambitious men a universe apart.

Praise For Gang Leader for a Day: A Rogue Sociologist Takes to the Streets…
"Gang Leader for a Day is not another voyeuristic look into the supposedly tawdry, disorganized life of the black poor. Venkatesh entered the Chicago gang world at the height of the crack epidemic and what he found was a tightly organized community, held together by friendship and compassion as well as force. I couldn't stop reading, and ended up loving this brave, reckless young scholar, as well as the gang leader J.T., who has to be one of the greatest characters ever to emerge from something that could be called sociological research." -- Barbara Ehrenreich "Gang Leader for a Day is an absolutely incredible book. Sudhir Venkatesh's memoir of his years observing life in Chicago's inner city is a book unlike any other I have read, equal parts comedy and tragedy. How is it that a naòve suburban kid ends up running a crack gang (if only for a day) on his way to becoming one of the world's leading scholars? You have to read it to find out, but heed this warning: don't pick up the book unless you have a few hours to spare because I promise you will not be able to put it down once you start." --Steven D. Levitt, co-author, Freakonomics "This extraordinary book features the fascinating research of a brilliant young sociologist. Sudhir Venkatesh spent several years closely interacting with crack-selling gang members and struggling poor residents in a large and very dangerous public housing project in Chicago. His riveting portrait of day-to-day life in this poor community, including the challenges confronting parents in a drug-infested and violent social environment, is disturbing. But, Gang Leader for a Day is rich with original information and insights on poor families, drug dealers and even the police. It will leave an indelible impression on readers." ---William Julius Wilson, Harvard University Lewis P. and Linda L. Geyser Professor "Whether you enjoy fiction, history, or biography you'll be drawn to Venkatesh's gripping retelling of his experiences in the Robert Taylor Homes. Gang Leader for a Day poignantly reminds us that there continue to be separate and unequal Americas that ultimately impact us all." --Congressman Jesse L. Jackson, Jr. (D-IL)
Penguin Press HC, The, 9781594201509, 320pp.
Publication Date: January 10, 2008
About the Author
Sudhir Venkatesh is professor of sociology and African American studies at Columbia University. His writings, stories, and documentaries have appeared in "The American Prospect," and on PBS and National Public Radio s "This American Life.""
or
Not Currently Available for Direct Purchase