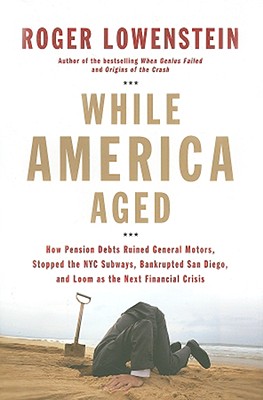 While America Aged (Hardcover)
How Pension Debts Ruined General Motors, Stopped the NYC Subways, Bankrupted San Diego, and Loom as the Next
Penguin Press HC, The, 9781594201677, 288pp.
Publication Date: May 1, 2008
Other Editions of This Title:
Paperback (4/28/2009)
Compact Disc (5/1/2008)
Compact Disc (5/13/2008)
* Individual store prices may vary.
Description
"While America Aged" illuminates the scope of the problem we re facing, and warns that the worst is yet to come. With the narrative flair and talent for decoding financial ambiguities that readers have come to rely on, Lowenstein brilliantly chronicles three fascinating pension cases: the collapse of the over-obligated General Motors, the pension strike that halted New York City's subways and effectively shut down the city, and the scandalous bankrupting of the affluent corner of Southern California, the city of San Diego. Not only compelling historical sagas rich with detail and unforgettable characters, each story also acts as an object lesson. Lowenstein warns that these pension wars are only the beginning of the retirement and healthcare crisis we will face if we don t find ways to address this latest moral hazard. Governments and corporations across the country used pensions as a seemingly easy way to curry favor with unions (easy because the expense would be deferred until a later generation). But now, with cumulative retirement deficits approaching $1 trillion, the day of reckoning has arrived.
Is there a way out? Lowenstein recognizes that fixing pensions will be difficult but securing retirement is a critical issue especially in our rapidly aging country and he proposes a cogent solution to the impending crisis. Masterfully written and convincingly argued, "While America Aged" is a timely and crucial wake-up call to a pension damaged America.
About the Author
Roger Lowenstein, author of the bestselling "Buffett: The Making of an American Capitalist" and "When Genius Failed: The Rise and Fall of Long-term Capital Management," reported for the "Wall Street Journal" for more than a decade and wrote the Journal s stock market column Heard on the Street and also its Intrinsic Value column. He now contributes articles and reviews to the Journal and the "New York Times Magazine" and is a columnist for "SmartMoney Magazine." He lives in Westfield, New Jersey."
or
Not Currently Available for Direct Purchase