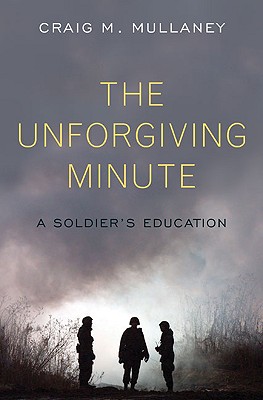 The Unforgiving Minute: A Soldier's Education (Hardcover)
A Soldier's Education
Penguin Press HC, The, 9781594202025, 400pp.
Publication Date: February 19, 2009
* Individual store prices may vary.
or
Not Currently Available for Direct Purchase
Description
A West Point grad, Rhodes Scholar, and Army Ranger recounts his unique education and struggles with the hard lessons that only war can teach.

One haunting afternoon on Losano Ridge in Afghanistan, U.S. Army Captain Craig Mullaney and his infantry platoon were caught in a deadly firefight with Al Qaeda fighters, when a message came over the radio: one of his soldiers had been killed by the enemy.

Mullaney's education,the four years he spent at West Point, and the harrowing test of Ranger School, readied him for a career in the Army. His subsequent experience as a Rhodes Scholar at Oxford couldn't have been further from the Army and his working-class roots, and yet the unorthodox education he received there would be surprisingly relevant as a combat leader.

But despite all his preparation, the hardest questions remained. When the call came to lead his platoon into battle and earn his soldiers' salutes, would he be ready? Was his education sufficient for the unforgiving minutes he'd face?

Years later, after that excruciating experience in Afghanistan, he would return to the United States to teach history to future Navy and Marine Corps officers at the Naval Academy. He had been in their position once, not long ago. How would he use his own life-changing experience to prepare them?

Written with unflinching honesty,The Unforgiving Minute is an unforgettable portrait of a young soldier grappling with the weight of his hard-earned knowledge, while at last coming to terms with what it really means to be a man.
About the Author
Craig Mullaney grew up in a blue-collar, Irish-Catholic family in Rhode Island and graduated from West Point in 2000. An Airborne Ranger, Mullaney earned a Rhodes Scholarship to Oxford University. In 2003, he led an infantry rifle platoon along the border between Afghanistan and Pakistan. His platoon operated along the entire spectrum of operations--from humanitarian assistance to combat engagements against Al Qaeda and Taliban fighters. Mullaney was later selected to join the Old Guard, the Army's elite honor guard for Arlington National Cemetery. He served three years on the history faculty of the U.S. Naval Academy, focusing on the history of American foreign policy. Mullaney's military awards include the Combat Infantryman's Badge, Bronze Star Medal, and Army Commendation Medal with "V" device for valor. He was an adviser on the Obama-Biden campaign and is now a member of the President-elect's Transition Team.
Advertisement