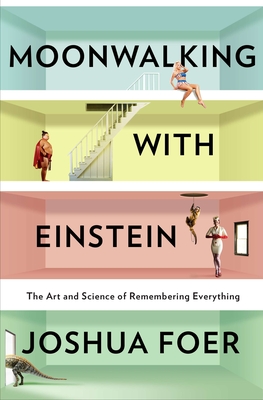 Moonwalking with Einstein (Hardcover)
The Art and Science of Remembering Everything
Penguin Press, 9781594202292, 320pp.
Publication Date: March 3, 2011
Other Editions of This Title:
Digital Audiobook (3/2/2011)
Paperback (2/28/2012)
Paperback, Large Print (3/6/2012)
Paperback (2/1/2012)
Paperback (4/1/2011)
Paperback (3/9/2012)
Hardcover, Large Print, Large Print (7/1/2011)
Paperback, Vietnamese (3/1/2013)
* Individual store prices may vary.
Description
The blockbuster phenomenon that charts an amazing journey of the mind while revolutionizing our concept of memory

An instant bestseller that is poised to become a classic, Moonwalking with Einstein recounts Joshua Foer's yearlong quest to improve his memory under the tutelage of top "mental athletes." He draws on cutting-edge research, a surprising cultural history of remembering, and venerable tricks of the mentalist's trade to transform our understanding of human memory. From the United States Memory Championship to deep within the author's own mind, this is an electrifying work of journalism that reminds us that, in every way that matters, we are the sum of our memories.

About the Author
Joshua Foer has written for National Geographic, Esquire, The New York Times, The Washington Post, and Slate.
Praise For Moonwalking with Einstein: The Art and Science of Remembering Everything…
"Absolutely phenomenal... Part of the beauty of this book is that it makes clear how memory and understanding are not two different things. Building up the ability to reason and the ability to retain information go hand in hand... The book reminds us that we all start off with pretty much the same tools for the most part, and we can be intentional about strengthening them, or not."—Bill Gates

"Captivating. . . His narrative is smart and funny and, like the work of Dr. Oliver Sacks, it's informed by a humanism that enables its author to place the mysteries of the brain within a larger philosophical and cultural context."—Michiko Kakutani, The New York Times

"His passionate and deeply engrossing book. . . is a resounding tribute to the muscularity of the mind. . .. In the end, Moonwalking with Einstein reminds us that though brain science is a wild frontier and the mechanics of memory little understood, our minds are capable of epic achievements."—The Washington Post

"Joshua Foer's book. . . is both fun and reassuring. All it takes to have a better memory, he contends, are a few tricks and a good erotic imagination."—Maureen Dowd, The New York Times

"Highly entertaining."—Adam Gopnik, The New Yorker

"It's delightful to travel with him on this unlikely journey, and his entertaining treatment of memory as both sport and science is spot on. . .. Moonwalking with Einstein proves uplifting: It shows that with motivation, focus, and a few clever tricks, our minds can do rather extraordinary things."—The Wall Street Journal

"It's a terrific book: sometimes weird but mostly smart, funny, and ultimately a lovely exploration of the ways that we preserve our lives and our world in the golden amber of human memory."—Deborah Blum, New Scientist

"Foer's book is relevant and entertaining as he shows us ways we can unlock our own talent to remember more."—USA Today

"A fascinating scientific analysis of mnemonic mysteries. What we remember, [Foer] says, defines who we are."—Entertainment Weekly

"Sprightly, entertaining. . . [Foer] has a gift for communicating fairly complex ideas in a manner that is palatable without being patronizing."—Financial Times

"[An] inspired and well-written debut book about not just memorization, but about what it means to be educated and the best way to become so, about expertise in general, and about the not-so-hidden 'secrets' of acquiring skills."—The Seattle Times

"[An] instant bestseller."—San Francisco Chronicle

"Funny, curious, erudite, and full of useful details about ancient techniques of training memory."—The Boston Globe

"With originality, high energy, and an appealing blend of chutzpah and humility, [Foer] writes of his own adventures and probes the history and literature of memory, the science of how the brain functions, and the connections between memory, identity, and culture. . .. Moonwalking with Einstein. . . is engaging and timely."—The Jewish Week

"A smart, thoughtful, engaging book."—The Portland Oregonian

"Charming. . . The book is part of a grand tradition, the writer as participating athlete, reminiscent of George Plimpton taking up football in Paper Lion."—O, The Oprah Magazine

"[A] wonderful first book."—Newcity

"Fascinating."—Town & Country

"For one year, Foer tried to attain total recall, extracting secrets from the top researchers, the real Rain Man, and the world's memory champs. He triumphed, both in his quest and in this lively account, which is, no exaggeration, unforgettable."—Parade

"In recounting his year in training for the USA Memory Championship, journalist Foer delivers a rich history of memory."—Discover Magazine

"Foer's history of memory is rich with information about the nature of memory and how it makes us who we are."—Scientific American

"A brief and pithy recounting of Foer's exploration of the fuzzy borders of his brain—a marveling at how and why it's able to do something quite unexpected. . .. Moonwalking with Einstein fits handily inline with the recent tradition of 'big idea' books."—The Millions

"An original, entertaining exploration about how and why we remember."—Kirkus Reviews

"An engaging, informative, and for the forgetful, encouraging book."—Booklist

"Hard to put down. . . The mind is a bigger thing than any of us realize, and Foer reminds us to keep exploring it."—Barnes & Noble Review

"He has thought deeply about memory and his effort yields questions that are well worth reflecting on."—The Daily Beast

"Intriguing. . . Foer does an excellent job of tracing the history of the arts of memory."—The Forward

"The kind of nonfiction work that gets people talking. . . A highly enjoyable read."—Thirteen.org

"You have to love a writer who employs chick-sexing to help explain human memory. Foer is a charmer, a crackling mind, a fresh wind. He approaches a complex topic with so much humanity, humor, and originality that you don't realize how much you're taking in and understanding. It's kind of miraculous."—Mary Roach, author of Packing for Mars, Bonk, Spook, and Stiff

"Moonwalking with Einstein isn't just a splendid overview of an essential aspect of our humanity—our memory; it is also a witty and engaging account of how Foer went from being a guy with an average memory to winning the USA Memory Championship."—Dan Ariely, professor of behavioral economics at Duke University and author of The Upside of Irrationality and Predictably Irrational

"In this marvelous book, Joshua Foer invents a new genre of nonfiction. This is a work of science journalism wrapped around an adventure story, a bildungs-roman fused to a vivid investigation of human memory. If you want to understand how we remember, and how we can all learn to remember better, then read this book."—Jonah Lehrer, contributing editor to Wired and author of How We Decide and Proust Was a Neuroscientist

"Joshua Foer proves what few of us are willing to get our heads around: there's more room in our brains than we ever imagined. Moonwalking with Einstein isn't a how-to guide to remembering a name or where you put your keys. It's a riveting exploration of humankind's centuries-old obsession with memory, and one man's improbable quest to master his own."—Stefan Fatsis, author of A Few Seconds of Panic and Word Freak
Coverage from NPR