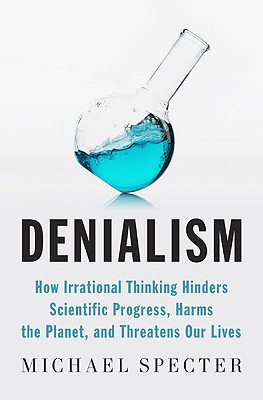 Denialism
How Irrational Thinking Hinders Scientific Progress, Harms the Planet, and Threatens Our Lives
Hardcover

* Individual store prices may vary.
Other Editions of This Title:
Paperback (10/26/2010)
Description
In this provocative and headline-making book, Michael Specter confronts the widespread fear of science and its terrible toll on individuals and the planet.
In "Denialism, New Yorker" staff writer Michael Specter reveals that Americans have come to mistrust institutions and especially the institution of science more today than ever before. For centuries, the general view had been that science is neither good nor bad that it merely supplies information and that new information is always beneficial. Now, science is viewed as a political constituency that isn t always in our best interest. We live in a world where the leaders of African nations prefer to let their citizens starve to death rather than import genetically modified grains. Childhood vaccines have proven to be the most effective public health measure in history, yet people march on Washington to protest their use. In the United States a growing series of studies show that dietary supplements and natural cures have almost no value, and often cause harm. We still spend billions of dollars on them. In hundreds of the best universities in the world, laboratories are anonymous, unmarked, and surrounded by platoons of security guards such is the opposition to any research that includes experiments with animals. And pharmaceutical companies that just forty years ago were perhaps the most visible symbol of our remarkable advance against disease have increasingly been seen as callous corporations propelled solely by avarice and greed.
As Michael Specter sees it, this amounts to a war against "progress." The issues may be complex but the choices are not: Are we going to continue to embrace new technologies, along with acknowledging their limitations and threats, or are we ready to slink back into an era of magical thinking? In "Denialism," Specter makes an argument for a new Enlightenment, the revival of an approach to the physical world that was stunningly effective for hundreds of years: What can be understood and reliably repeated by experiment is what nature regarded as true. Now, at the time of mankind's greatest scientific advances and our greatest need for them that deal must be renewed.
Praise For Denialism: How Irrational Thinking Hinders Scientific Progress, Harms the Planet, and Threatens Our Lives…
"Specter is both provocative and thoughtful in his defense of science and rationality—though he certainly does not believe that scientists are infallible. His writing is engaging and his sources are credible, making this a significant addition to public discourse on the importance of discriminating between credible science and snake oil."—Publishers Weekly



"A lucid and insightful book about a very frightening and irrational phenomenon—the fear and superstition that threaten human science and progress. A superb and convincing work."—Malcolm Gladwell, New Yorker staff writer and author of Outliers, Blink, and The Tipping Point



"Denialism tells stories I know well, at least in outline. But Michael Specter very valuably gathers them under one roof and gives them a name. Specter describes the increasing public willingness to deny the hard-won facts of science in favor of myths and shoddy investigation. In the process, the denialists are enabling disease and poverty, denying the advances of science to those in need."—David Baltimore, president emeritus, Biology California Institute of Technology



"We are bombarded with information and misinformation about the foods we eat, the medicines we take, the water we drink, the very air we breathe. Michael Specter shows us how to accurately assess the impact of science on these and other essential elements of our daily lives. Written in clear and accessible language, this uniquely valuable book explains an often confusing world."—Jerome Groopman, M.D., Recanati Professor, Harvard Medical School, author of How Doctors Think


Penguin Press HC, The, 9781594202308, 304pp.
Publication Date: October 29, 2009
About the Author
Michael Specter writes about science, technology and global public health for the "New Yorker," where he has been a staff writer since 1998. He has twice received the Global Health Council s Excellence in Media Award, as well as the Science Journalism Award from the American Association for the Advancement of Science."
Coverage from NPR
or
Not Currently Available for Direct Purchase