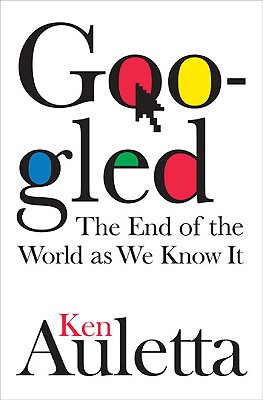 Googled
The End of the World As We Know It
Hardcover

* Individual store prices may vary.
Other Editions of This Title:
MP3 CD (8/11/2015)
Compact Disc (11/3/2009)
Paperback, Japanese (9/1/2013)
Paperback (10/26/2010)
Compact Disc (11/3/2009)
Hardcover (2/1/2010)
Paperback (4/1/2011)
MP3 CD (11/3/2009)
MP3 CD (11/3/2009)
Description
A revealing, forward-looking examination of the outsize influence Google has had on the changing media Landscape.
There are companies that create waves and those that ride or are drowned by them. As only he can, bestselling author Ken Auletta takes readers for a ride on the Google wave, telling the story of how it formed and crashed into traditional media businesses?from newspapers to books, to television, to movies, to telephones, to advertising, to Microsoft. With unprecedented access to Google's founders and executives, as well as to those in media who are struggling to keep their heads above water, Auletta reveals how the industry is being disrupted and redefined.
Using Google as a stand-in for the digital revolution, Auletta takes readers inside Google's closed-door meetings and paints portraits of Google's notoriously private founders, Larry Page and Sergey Brin, as well as those who work with?and against?them. In his narrative, Auletta provides the fullest account ever told of Google's rise, shares the ?secret sauce? of Google's success, and shows why the worlds of ?new? and ?old? media often communicate as if residents of different planets.
Google engineers start from an assumption that the old ways of doing things can be improved and made more efficient, an approach that has yielded remarkable results? Google will generate about $20 billion in advertising revenues this year, or more than the combined prime-time ad revenues of CBS, NBC, ABC, and FOX. And with its ownership of YouTube and its mobile phone and other initiatives, Google CEO Eric Schmidt tells Auletta his company is poised to become the world's first $100 billion media company. Yet there are many obstacles that threaten Google's future, and opposition from media companies and government regulators may be the least of these. Google faces internal threats, from its burgeoning size to losing focus to hubris. In coming years, Google's faith in mathematical formulas and in slide rule logic will be tested, just as it has been on Wall Street.
Distilling the knowledge accrued from a career of covering the media, Auletta will offer insights into what we know, and don't know, about what the future holds for the imperiled industry.
Praise For Googled: The End of the World As We Know It…
"This is an engrossing look at Google and the broader trends in information and entertainment in the Internet age."—Booklist, Starred Review



"[A] savvy profile of the Internet search octopus….[and] a sharp and probing analysis of the apocalyptic upheavals in the media and entertainment industries."—Publishers Weekly



"Auletta uncovers some endlessly colorful material and assesses [Google's] prospects critically but fairly."—Kirkus Reviews



"Auletta has captured something critical and true about the tribe that made the enormous success of Google possible. His understanding is critical and essential for anyone trying to predict how long this run of enormous success will continue. Bottom line: Not forever, and maybe not much longer. Here's exactly why."—Larry Lessig, author of Remix: Making Art and Commerce Thrive in the Hybrid Economy and Free Culture: The Nature and Future of Creativity



"A uniquely incisive account of the new Internet revolution, powered by Ken Auletta's unparalleled access. Essential reading."—Marc Andreessen, founder of Netscape and co-founder of Ning



"Ken Auletta has produced the seminal book about media in the digital age. It is a triumph of reporting and analysis, filled with revealing scenes, fascinating tales, and candid interviews. Google is both a driver and a symbol of a glorious disruption in the media world, and Auletta chronicles, in a balance and thoughtful way, both that glory and that disruption."—Walter Isaacson, author of Einstein: His Life and Universe and Benjamin Franklin: An American Life


Penguin Press HC, The, 9781594202353, 400pp.
Publication Date: November 3, 2009
About the Author
Ken Auletta has written the Annals of Communications column and profiles for The New Yorker since 1992. He is the author of eight books, including Three Blind Mice, Greed and Glory on Wall Street, and World War 3.0. In naming him America s premier media critic, the Columbia Journalism Review said, No other reporter has covered the new communications revolution as thoroughly as has Auletta. He lives in Manhattan with his wife and daughter."
Coverage from NPR
or
Not Currently Available for Direct Purchase