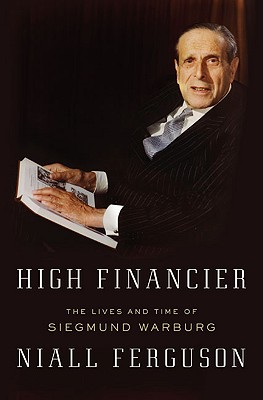 High Financier
The Lives and Time of Siegmund Warburg
Hardcover

* Individual store prices may vary.
Other Editions of This Title:
Digital Audiobook (6/29/2010)
Paperback (6/28/2011)
MP3 CD (6/30/2010)
MP3 CD (6/30/2010)
Compact Disc (6/30/2010)
Paperback (9/1/2011)
Compact Disc (6/30/2010)
Compact Disc (6/30/2010)
Description
Bestselling author Niall Ferguson reveals for the first time the true extent of Siegmund Warburg's influence-and the lessons we can learn in a time of crisis from the last of the high financiers.
"Success from the financial and from the prestige point of view . . . is not enough; what matters even more is . . . adherence to high moral and aesthetic standards."
-Siegmund Warburg, 1959
In this pathbreaking new biography, based on more than ten thousand hitherto unavailable letters and diary entries, bestselling author Niall Ferguson returns to his roots as a financial historian to tell the story of Siegmund Warburg, an extraordinary man whose austere philosophy of finance offers much insight today.
A refugee from Hitler's Germany, Warburg rose to become the dominant figure in postwar City of London and one of the architects of European financial integration. Seared by the nearcollapse and then "Aryanization" of his family's long-established bank in the 1930s and then frustrated by the stagnation of its Wall Street sister, Kuhn Loeb, in the 1950s, Warburg resolved that his own firm of S. G. Warburg (founded in 1946) would be different.
An obsessive perfectionist with an aversion to excessive risk, Warburg came to embody the ideals of the "haute banquet"-high finance- always eschewing the fast buck in favor of gilt-edged advice. He was not only the master of the modern merger and founder of the eurobond; he was also a key behind-the-scenes adviser to governments in London, Tokyo, and Jerusalem-to his critics, a "financial Rasputin." Like a character from a Thomas Mann novel, Warburg was a complex and ambivalent man, as much a psychologist, politician, and actor-manager as he was a banker. In "High Financier" Niall Ferguson shares the first book-length examination of a man whose life and work suggest an alternative to the troubled business principles that helped shape our current financial landscape.
Penguin Press, 9781594202469, 547pp.
Publication Date: June 24, 2010
About the Author
Niall Ferguson is Laurence A. Tisch Professor of History at Harvard University, a Senior Research Fellow of Jesus College, Oxford University, and a Senior Fellow of the Hoover Institution, Stanford University. The bestselling author of "Paper and Iron," "The House of Rothschild," "The Pity of War," "The Cash Nexus," "Empire," and "Colossus," he also writes regularly for newspapers and magazines all over the world. Since 2003 he has written and presented three highly successful television documentary series for British television: "Empire," "American Colossus," and, most recently, "The War of the World."
or
Not Currently Available for Direct Purchase