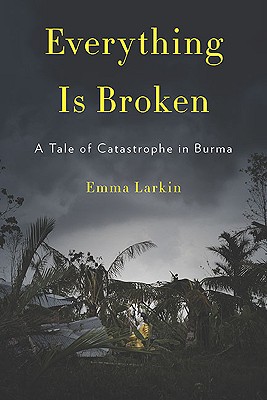 Everything Is Broken (Hardcover)
A Tale of Catastrophe in Burma
Penguin Press HC, The, 9781594202575, 288pp.
Publication Date: April 29, 2010
Other Editions of This Title:
Digital Audiobook (5/9/2010)
Compact Disc (5/10/2010)
MP3 CD (5/10/2010)
Compact Disc (5/10/2010)
Pre-Recorded Audio Player (8/1/2010)
* Individual store prices may vary.
Description
Read Emma Larkin's posts on the Penguin Blog.
A deeply reported account of life inside Burma in the months following the disastrous Cyclone Nargis and an analysis of the brutal totalitarian regime that clings to power in the devastated nation.
On May 2, 2008, an enormous tropical cyclone made landfall in Burma, wreaking untold havoc and leaving an official toll of 138,300 dead and missing. In the days that followed, the sheer scale of the disaster became apparent as information began to seep out from the hard-hit delta area. But the Burmese regime, in an unfathomable decision of near-genocidal proportions, provided little relief to its suffering population and blocked international aid from entering the country. Hundreds of thousands of Burmese citizens lacked food, drinking water, and basic shelter, but the xenophobic generals who rule the country refused emergency help.
Emma Larkin, who has been traveling to and secretly reporting on Burma for years, managed to arrange for a tourist visa in those frenzied days and arrived hoping to help. It was impossible for anyone to gauge just how much devastation the cyclone had left in its wake; by all accounts, including the regime's, it was a catastrophe of epic proportions. In "Everything Is Broken," Emma Larkin chronicles the chaotic days and months that followed the storm, revealing the secretive politics of Burma's military dictatorship and the bizarre combination of vicious military force, religion, and mysticism that defined its unthinkable response to this horrific event.
The Burmese regime hid the full extent of the storm's devastation from the rest of the world, but the terrible consequences for Burma and its citizens continue to play out months after the headlines have faded from newspapers around the world. In "Everything Is Broken," Larkin-whose deep knowledge of the Burmese people has afforded her unprecedented access and a rare understanding of life under Burmese oppression-provides a singular portrait of the regime responsible for compounding the tragedy and examines the historical, religious, and superstitious setting that created Burma's tenacious and brutal dictatorship. Writing under an assumed name, Larkin delivers the heretofore untold story of a disaster that stunned the world, unveiling as she does so the motivations of the impenetrable generals who govern this troubled nation.
About the Author
Emma Larkin is the pseudonym for an American journalist who was born and raised in Asia, studied the Burmese language at the School of Oriental and African Studies in London, and covers Asia widely in her journalism from her base in Bangkok. She has been visiting Burma for close to ten years."
or
Not Currently Available for Direct Purchase