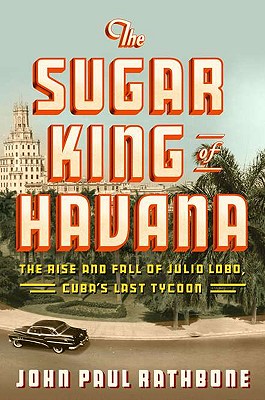 The Sugar King of Havana (Hardcover)
The Rise and Fall of Julio Lobo, Cuba's Last Tycoon
Penguin Press HC, The, 9781594202582, 320pp.
Publication Date: August 5, 2010
Other Editions of This Title:
Paperback (7/26/2011)
Compact Disc (8/24/2010)
MP3 CD (8/24/2010)
Compact Disc (8/24/2010)
Pre-Recorded Audio Player (11/1/2010)
* Individual store prices may vary.
Description
The son of a Cuban exile recounts the remarkable and contradictory life of famed sugar baron Julio Lobo, the richest man in prerevolutionary Cuba and the last of the island's "haute bourgeoisie."
Fifty years after the Cuban revolution, the legendary wealth of the sugar magnate Julio Lobo remains emblematic of a certain way of life that came to an abrupt end when Fidel Castro marched into Havana. Known in his day as the King of Sugar, Lobo was for decades the most powerful force in the world sugar market, controlling vast swathes of the island's sugar interests. Born in 1898, the year of Cuba's independence, Lobo's extraordinary life mirrors, in almost lurid technicolor, the many rises and final fall of the troubled Cuban republic.
The details of Lobo's life are fit for Hollywood. He twice cornered the international sugar market and had the largest collection of Napoleonica outside of France, including the emperor's back teeth and death mask. He once faced a firing squad only to be pardoned at the last moment, and later survived a gangland shooting. He courted movie stars from Bette Davis to Joan Fontaine and filled the swimming pool at his sprawling estate with perfume when Esther Williams came to visit.
As Rathbone observes, such are the legends of which revolutions are made, and later justified. But Lobo was also a progressive and a philanthropist, and his genius was so widely acknowledged that Che Guevara personally offered him the position of minister of sugar in the Communist regime. When Lobo declined-knowing that their worldviews could never be compatible-his properties were nationalized, most of his fortune vanished overnight, and he left the island, never to return to his beloved Cuba.
"Financial Times" journalist John Paul Rathbone has been fascinated by this intoxicating, whirligig, and contradictory prerevolutionary period his entire life. His mother was also a member of Havana's storied haute bourgeoisie and a friend of Lobo's daughters. Woven into Lobo's tale is her family's experience of republic, revolution, and exile, as well as the author's own struggle to come to grips with Cuba's, and his family's, turbulent history.
Prodigiously researched and imaginatively written, "The Sugar King of Havana" is a captivating portrait of the glittering end of an era, but also of a more hopeful Cuban past, one that might even provide a window into the island's future.
About the Author
John Paul Rathbone was born in New York and raised in England. Currently the "Financial Times'" Latin American editor, and a former editor of the FT s prestigious Lex column, he is a graduate of Oxford and Columbia Universities, and has worked as an economist at the World Bank, and as a journalist. His articles have appeared in many publications including "The Wall Street Journal, Britain s Sunday Telegraph," Colombia s "El Espectador" and "Esquire" magazine, where he was business columnist from 2002-2003. He lives in London."
Praise For The Sugar King of Havana: The Rise and Fall of Julio Lobo, Cuba's Last Tycoon…
"The Sugar King of Havana is a picture postcard in print, an elegant and perceptive tale of life on a star-crossed island. ... [Rathbone] has a keen eye for the sounds, sights and smells of Cuba."
-Christian Science Monitor

"Fascinating... Mr. Rathbone tells the story of prerevolutionary Cuba through the prism of the man who was once known as the Sugar King. ... [H]e gives us a richly detailed portrait of this complicated, conflicted man while deftly weaving a thumbnail history of modern Cuba into Lobo's story."
-Michiko Kakutani, The New York Times

"In this splendid, engagingly written book, Rathbone makes Lobo come alive in the context of Cuba's booms and busts up until Castro's revolution."
-Financial Times

"An entertaining biography that is also a portrait of Cuba between the island's independence in the late 19th century and Fidel Castro's march into Havana in January 1959."
-The Wall Street Journal

"Splendid... Rathbone's nuanced blending of familial and national history lend this work poignancy and depth."
-Ann Louise Bardach, The Washington Post

"Wide-ranging life of a Cuban Croseus and a graceful history of the island during the last century...Lively, well written...."
-Kirkus Reviews

"[THE SUGAR KING OF HAVANA] restores a realistic sense of what 1950s Cuba was like, including the guarded optimism with which many upper-crust Cubans such as Lobo initially viewed Castro's seizing of power. Rathbone's care with social atmosphere lifts his portrayal of Lobo above the usual life-of-a-tycoon and enriches the historical understanding of readers contemplating post Castro Cuba."
-Booklist

"The Sugar King of Havana is a remarkable book. On the one hand, John Paul Rathbone has written the extraordinary life story of Cuba 's late sugar baron Julio Lobo. Set against the epic sweep of Cuba 's revolutionary history, this is also a deeply personal family memoir that clears a pathway to a part of Cuba 's wounded soul. Beautifully written; a stunning achievement."
-Jon Lee Anderson, author of Che and The Fall of Baghdad

"This is a riveting story that goes well beyond traditional biography. In telling the tale of Cuban sugar magnate, Julio Lobo-sophisticated, complex, obsessive, a collector of Napoleon memorabilia and Hollywood starlets, as well as a ruthless businessman-Mr. Rathbone illuminates the extraordinary history of Cuba itself, and the many worlds that evaporated with the onset of Castro's revolution."
-Cristina Garcia, author of Dreaming in Cuban and The Lady Matador's Hotel

"At long last: a book that does not glorify the Cuba of the 1950's or romanticize the terrible and ineffective government that tried to erase it from memory."
-Mirta Ojito, author, Finding Manana: A Memoir of a Cuban Exodus

"This magnificently written book is much more than an account of the life of a singular personage: it is a fascinating portrait of an era by now unknown even to the Cubans themselves. Whoever wishes to know what the island was like before the revolution must read this work."
-Carlos Alberto Montaner, author of Journey to the Heart of Cuba

"This beautifully written, deeply felt biography of Cuba's most important sugar capitalist looks to the past-into national and family history-almost as if to meditate on Cuba's future, and accomplishes this with wonderful detail, nuance and balance. A fascinating and unexpectedly original story of Cuba."
-Francisco Goldman, novelist and author of The Art of Political Murder
Coverage from NPR
or
Not Currently Available for Direct Purchase