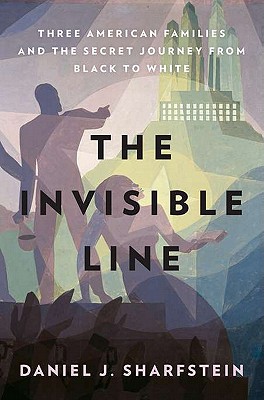 The Invisible Line
Three American Families and the Secret Journey from Black to White
Hardcover

* Individual store prices may vary.
Other Editions of This Title:
Digital Audiobook (6/9/2011)
Paperback (1/31/2012)
Description
"The Invisible Line" shines light on one of the most important, but too often hidden, aspects of American history and culture. Sharfstein's narrative of three families negotiating America's punishing racial terrain is a must read for all who are interested in the construction of race in the United States."
--Annette Gordon-Reed, Pulitzer Prize winning author of "The Hemingses of Monticello"
In America, race is a riddle. The stories we tell about our past have calcified into the fiction that we are neatly divided into black or white. It is only with the widespread availability of DNA testing and the boom in genealogical research that the frequency with which individuals and entire families crossed the color line has become clear.
In this sweeping history, Daniel J. Sharfstein unravels the stories of three families who represent the complexity of race in America and force us to rethink our basic assumptions about who we are. The Gibsons were wealthy landowners in the South Carolina backcountry who became white in the 1760s, ascending to the heights of the Southern elite and ultimately to the U.S. Senate. The Spencers were hardscrabble farmers in the hills of Eastern Kentucky, joining an isolated Appalachian community in the 1840s and for the better part of a century hovering on the line between white and black. The Walls were fixtures of the rising black middle class in post-Civil War Washington, D.C., only to give up everything they had fought for to become white at the dawn of the twentieth century. Together, their interwoven and intersecting stories uncover a forgotten America in which the rules of race were something to be believed but not necessarily obeyed.
Defining their identities first as people of color and later as whites, these families provide a lens for understanding how people thought about and experienced race and how these ideas and experiences evolved-how the very meaning of black and white changed-over time. Cutting through centuries of myth, amnesia, and poisonous racial politics, "The Invisible Line" will change the way we talk about race, racism, and civil rights.
Praise For The Invisible Line: Three American Families and the Secret Journey from Black to White…
"The Invisible Line offers a trilogy of remarkable tales brimming with risk taking, camouflage, irony, narrow escapes, misgivings, regret, delight, and full-scale human drama. Excellent histories have been published about the Great Migration of twentieth-century African Americans from the rural South to the urban North, but, until now, no authoritative and cumulative work has looked at this preceding and overlapping social movement of race changing. This book overthrows nearly everything Americans thought they knew about race."
-Melissa Fay Greene, author of Praying for Sheetrock and There Is No Me Without You

"An original and often startling look at the vagaries of the 'color line.' Sharfstein shows definitively that it was not a doctrinaire belief in racial purity that gave the South stability but rather a fluid understanding by its people and its institutions of racial difference and its multiple permutations."
-Henry Louis Gates Jr., Alphonse Fletcher University Professor, Harvard University

"Sharfstein brings his original research alive with a novelist's eye for vivid detail and narrative. A groundbreaking work that will stir reflection and debate."
-Matthew Pearl, author of The Dante Club

"With lively prose and remarkable research, Sharfstein creates a fresh and stirring epic of American life. He weaves the vexing problem of race into the very fabric of national life and shows just how unsteady and complicated racial identity can be."
-Martha A. Sandweiss, author of Passing Strange

"A tremendous contribution to our understanding of the role of race in American history . . . One of those rare books that make history come alive."."
-Lawrence M. Friedman, Marion Rice Kirkwood Professor, Stanford Law School; author of A History of American Law

"Deeply intertwined in the American story of race are these stories of camouflaged families and their passages across the color line. Daniel Sharfstein disentangles them with eloquence and compassion."
-David K. Shipler, Pulitzer Prize winning author of A Country of Strangers

"A beautifully written book that reveals not only how the law has shaped American ideas about race but also how the complexity of human experience has pushed against the rigid boundaries of our legal categories."
-Mark S. Weiner, professor of law, Rutgers-Newark School of Law; author of Black Trials

"Brilliant . . . a true American story. Its consequences pervade the American past and shadow its future."
-Ira Berlin, professor of history at the University of Maryland, author of The Making African America

"A must-read for all serious students of the race line in American life, written with care, verve, sophistication, and enormous learning."
--Randall Kennedy, Michael R. Klein Professor of Law, Harvard University

"A powerful indictment of one of America's most enduring myths. Written with a novelist's eye for fascinating characters and rich sense of place and a scholar's precision and panoramic perspective, The Invisible Line makes visible the shifting artificial nature of the "color line" and its dire, life-changing consequences. Read this book if you want to understand the roots of our knotted racial history. Read this book if you hope to untangle it."
--Bliss Broyard, author of One Drop
Penguin Press HC, The, 9781594202827, 416pp.
Publication Date: February 17, 2011
About the Author
Daniel J. Sharfstein is an associate professor of law at Vanderbilt University. Sharfstein graduated from Yale Law School and from Harvard College, summa cum laude in history and literature and Afro-American Studies. He has been awarded fellowships in legal history from Harvard, New York University, and the National Endowment for the Humanities. Sharfstein has written for the "Yale Law Journal, The New York Times, The Economist," and "The Washington Post."
or
Not Currently Available for Direct Purchase