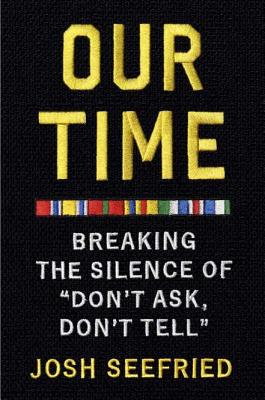 Our Time (Hardcover)
Breaking the Silence of "Don't Ask, Don't Tell"
Penguin Press HC, The, 9781594203312, 224pp.
Publication Date: October 13, 2011
Other Editions of This Title:
Paperback (8/28/2012)
* Individual store prices may vary.
Description
Active-duty LGBT soldiers share their stories of serving under "Don't Ask, Don't Tell," revealing an intimate portrait of military life
"Our Time" marks the end of more than a decade of silence, giving voice to the LGBT men and women who served under "Don't Ask, Don't Tell." These individuals enlisted knowing that the military would ask them to bury an integral part of themselves and yet joined because of their deep belief that the values of the military were worth the tremendous sacrifice. Our Time is their story.
Edited by air force officer J. D. Smith, a cofounder of the underground LGBT military organization OutServe, Our Time is a collection of remarkable depth and diversity. We witness the abuse-physical and mental-endured at the hands of fellow soldiers and superiors. We see the hardships faced by their families and partners and feel the pain of the choice between military and self. There are also examples of humanity at its very best: leaders with the courage to support their comrades in the face of tremendous pressure, friendships forged and minds opened, and love that endures the very toughest of odds.
Throughout we are reminded of the bravery and selflessness of the men and women who chose to serve our country and defend our liberties while their own freedom was withheld. At once a testament to the wrongs of the policy and a celebration of the good that endured in spite of it, "Our Time" marks the start of a new era in our national history.
About the Author
Josh Seefried is currently an active duty air force officer and 2009 graduate of the Air Force Academy, and operated under the pseudonym JD Smith prior to repeal. As co-founder and co-director of OutServe, he is regularly sought by the media to represent gay active duty members, and has only appeared in shadow to date. Seefried was an invited guest to the presidential signing of the legislation to repeal Don t Ask, Don t Tell. "
or
Not Currently Available for Direct Purchase