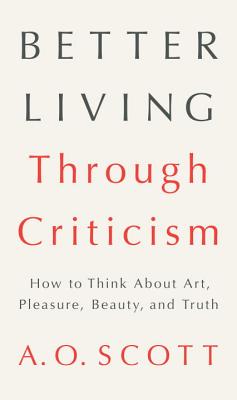 Better Living Through Criticism
How to Think About Art, Pleasure, Beauty, and Truth
Hardcover

* Individual store prices may vary.
Other Editions of This Title:
Digital Audiobook (2/8/2016)
Paperback (2/7/2017)
Description
The New York Times film critic shows why we need criticism now more than ever
Few could explain, let alone seek out, a career in criticism. Yet what A.O. Scott shows in Better Living Through Criticism is that we are, in fact, all critics: because critical thinking informs almost every aspect of artistic creation, of civil action, of interpersonal life. With penetrating insight and warm humor, Scott shows that while individual critics--himself included--can make mistakes and find flaws where they shouldn't, criticism as a discipline is one of the noblest, most creative, and urgent activities of modern existence.
Using his own film criticism as a starting point--everything from his infamous dismissal of the international blockbuster The Avengers to his intense affection for Pixar's animated Ratatouille--Scott expands outward, easily guiding readers through the complexities of Rilke and Shelley, the origins of Chuck Berry and the Rolling Stones, the power of Marina Abramovich and 'Ode on a Grecian Urn.' Drawing on the long tradition of criticism from Aristotle to Susan Sontag, Scott shows that real criticism was and always will be the breath of fresh air that allows true creativity to thrive. "The time for criticism is always now," Scott explains, "because the imperative to think clearly, to insist on the necessary balance of reason and passion, never goes away."
Praise For Better Living Through Criticism: How to Think About Art, Pleasure, Beauty, and Truth…

Maclean's Non-Fiction Bestseller

"In this book, as in his reviews, Scott's voice is genial, reasonable and self-aware. He elucidates complex ideas with snappy language. He's funny, but not cynical or snarky…. What he does especially well is explain how art develops and why our varied responses to it matter, pinpointing where criticism fits into the equation." —Newsday

"Mr. Scott is very intelligent….What may matter more is that Mr. Scott is fun to read…[Scott] says that the simple questions—always with complex answers—that criticism poses are: 'Did you feel that?'  'Was it good for you?' 'Tell the Truth.'  He reminds us that critical judgments, like art itself, demand intellectual and sensuous, even sexual, responses.  Mr. Scott answers his own demands…."—Wall Street Journal

"Rousing and erudite."—San Francisco Chronicle

"Witty and thoughtful…. Reading Scott's book is like watching the stiff-upper-lipped hero of a British 1940s thriller facing down his or her adversaries — modest, brave and utterly unflappable."—LA Times 

"If we were looking for an intelligent, informed and often funny account of why we can't live comfortably with criticism (in any of the word's meanings), and can't live without it, either, we need look no further, and shall probably want to read this book more than once…."—New York Times

"Impassioned and deeply thoughtful ….Scott lays out a taxonomy of meaningful thought (and the meaning of thought itself)….His disciplined reasoning, impressive erudition, and deep commitment to his art (as he defines it) are never less than provocative and elegantly articulated. A zealous and well-considered work of advocacy for an art too often unappreciated and misunderstood."—Kirkus 

"This stunning treatise on criticism from New York Times film critic Scott is a complete success, comprehensively demonstrating the value of his art...a necessary work that may enter the canon of great criticism." - Publisher's Weekly starred review
Penguin Press, 9781594204838, 288pp.
Publication Date: February 9, 2016
About the Author
A. O. Scott joined The New York Times as a film critic in January 2000. Previously, Mr. Scott was a Sunday book reviewer for Newsday and a frequent contributor to Slate, The New York Review of Books, and many other publications. He has served on the editorial staffs of Lingua Franca and The New York Review of Books. In addition to his film-reviewing duties, Mr. Scott often writes for the Times Magazine and the Book Review. He lives with his family in Brooklyn, N.Y.
or
Not Currently Available for Direct Purchase