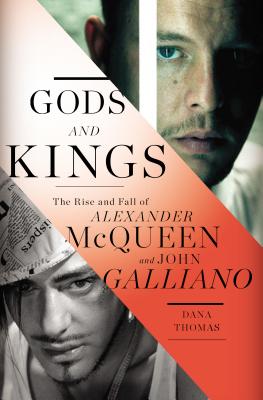 Gods and Kings
The Rise and Fall of Alexander McQueen and John Galliano
Hardcover

* Individual store prices may vary.
Other Editions of This Title:
Digital Audiobook (2/9/2015)
Paperback (1/26/2016)
Description
More than two decades ago, John Galliano and Alexander McQueen arrived on the fashions scene when the business was in an artistic and economic rut. Both wanted to revolutionize fashion in a way no one had in decades. They shook the establishment out of its bourgeois, minimalist stupor with daring, sexy designs. They turned out landmark collections in mesmerizing, theatrical shows that retailers and critics still gush about and designers continue to reference.

Their approach to fashion was wildly different—Galliano began as an illustrator, McQueen as a Savile Row tailor. Galliano led the way with his sensual bias-cut gowns and his voluptuous hourglass tailoring, which he presented in romantic storybook-like settings. McQueen, though nearly ten years younger than Galliano, was a brilliant technician and a visionary artist who brought a new reality to fashion, as well as an otherworldly beauty. For his first official collection at the tender age of twenty-three, McQueen did what few in fashion ever achieve: he invented a new silhouette, the Bumster.

They had similar backgrounds: sensitive, shy gay men raised in tough London neighborhoods, their love of fashion nurtured by their doting mothers. Both struggled to get their businesses off the ground, despite early critical success. But by 1997, each had landed a job as creative director for couture houses owned by French tycoon Bernard Arnault, chairman of LVMH.
 
Galliano's and McQueen's work for Dior and Givenchy and beyond not only influenced fashion; their distinct styles were also reflected across the media landscape. With their help, luxury fashion evolved from a clutch of small, family-owned businesses into a $280 billion-a-year global corporate industry. Executives pushed the designers to meet increasingly rapid deadlines. For both Galliano and McQueen, the pace was unsustainable. In 2010, McQueen took his own life three weeks before his womens' wear show.

The same week that Galliano was fired, Forbes named Arnault the fourth richest man in the world. Two months later, Kate Middleton wore a McQueen wedding gown, instantly making the house the world's most famous fashion brand, and the Metropolitan Museum of Art opened a wildly successful McQueen retrospective, cosponsored by the corporate owners of the McQueen brand. The corporations had won and the artists had lost.

In her groundbreaking work Gods and Kings, acclaimed journalist Dana Thomas tells the true story of McQueen and Galliano. In so doing, she reveals the revolution in high fashion in the last two decades—and the price it demanded of the very ones who saved it.
Praise For Gods and Kings: The Rise and Fall of Alexander McQueen and John Galliano…
San Francisco Chronicle
: 
"One of the most anticipated fashion reads of 2015 … explores the complicated minds of the two designers. From their brilliant early collections and career highs to McQueen's tragic suicide and Galliano's public meltdown, Thomas pays equal heed to the darkness and the light of both men in this gripping story of fashion Icaruses who flew too close to the sun.
Christian Science Monitor
: 
"Those familiar with Thomas, author of "Deluxe: How Luxury Lost Its Luster," are well aware of her abilities to break down the illusions of the fashion industry. She believes there were several reasons that contributed to the two designers' downfalls: the crushing pressures in the new corporatization and democratization of fashion, the use of substance abuse as a coping mechanism, and the personal loss of family and close friends."
The Huffington Post:
"Even if you don't follow the world of high fashion, Dana Thomas' dual biography of British designers John Galliano and Alexander McQueen is one of the nonfiction titles of the year. Thomas probes the torrential world of haute couture as she chronicles the lives of fashion superstars whose meteoric careers read like a modern Faustian tale of tragic dimension." 
The Lady: 
Entertaining and deliciously exhaustive...This is the book that the fashion world was waiting for. Thomas's eloquence is compelling, her prose fast and feisty." 
National Post: 
"[
Gods and Kings
] is fast, moving from various thrills and despairs with cinematic pace....It is revelant to the current fashion industry, but has no exact contemporary parallels. Thomas has written a guide to understanding a certain kind of fashion designer without reducing either to stereotypes, a signifier for a certain kind of art without reducing the work to a footnote."
Jon Meacham, Pulitzer Prize-winning author of
Thomas Jefferson
and
American Lion
: 
"Dana Thomas has written a real-life saga that is as engaging and compelling as a work of great fiction. By taking us inside the fascinating world of fashion, she gives us a startling tale of ambition, creativity, fame, and ultimately tragedy. This is a terrific book."
Michael Gross, author of Model and House of Outrageous Fortune: 
"Comprehensive, detailed, coldly accurate yet extraordinarily sympathetic, Dana Thomas's Gods and Kings is a fascinating double biography of two dressmakers of genius. But it's also a riveting, definitive history of the three decades in which fashion devolved from a coddling cottage business to a cutthroat industry quite capable of killing its young. As commerce triumphs over art, you can only cringe, but you also have to admire Thomas's exhaustive account of what fashion folk would no doubt refer to as a moment that will never, and can never, be repeated."
Teri Agins, author of Hijacking the Runway and The End of Fashion: 
"John Galliano and Alexander McQueen raised the bar creatively and theatrically with their high-impact fashion shows. In Gods and Kings, Paris based fashion writer Dana Thomas digs deep with the zeal of a historian, to chronicle the parallel dramas of the British fashion wunderkinds, whose careers ended tragically, way too soon."
Praise for Deluxe by Dana Thomas
"A crisp, witty social history that's as entertaining as it is informative."
--Michiko Kakutani, New York Times
"
What Fast Food Nation did for food service, this book does for fashion
, exposing the underbelly of the $157-billion luxury industry and the lockstep consumer psychology behind its glamorous veneer."
--Los Angeles Times
"
Richly reported
….
Deluxe
is a melancholy meditation on the fate of the handbag in the age of mechanical reproduction."
--Washington Monthly
"
A scathing exposé demystifies the luxury-goods industry
, detailing how venerable fashion houses have traded quality for profits….
Painstakingly researched and deftly written
, valuable to fashionistas and fashion victims alike."
--Kirkus Reviews
"
Meticulously researched and elegantly written…
. Lamentation hangs over this book like a perfectly tailored sheath. … The story Ms. Thomas tells is a
fascinating
one, filled with
surprising
details, and she tells it well….. The mini-biographies that dot the book are its most engaging feature. Business buffs will relish more tales of buyouts, product placement, marketing and globalization. Prada wins points for some of the most audacious marketing moves while Vuitton loses points for its caving into Vichy and the Nazi regime, gestures by the way that cost them nothing in sales….
[A] wonderful book.
"
--The Washington Times
"Thomas's
astute social history
argues convincingly that accessibility has forever tarnished long-cherished status symbols."
--Vogue
"
Thomas does for high-end handbags what Eric Schlosser did for the Chicken McNugget in Fast Food Nation...
Consider it
required reading
for anyone who has ever maxed out a credit card at Bergdorf Goodman."
--Details
"
[Thomas] writes with authority, and she knows the players…
  Unlike many of the authors on this crowded shelf, presumed experts whose intramural tone is aimed directly at executives looking to market their products more successfully, Thomas talks directly to the shopper – the teenager at the mall, the tourist in Vegas. … Thomas is at her best as a reporter, accompanying police in Guangzhou, China, on raids to bust the manufacturers and sellers of counterfeit goods.  There is
real drama
in these scenes, and vivid characters, including tough-talking cops and rock-tossing child laborers angry that their work has been disrupted."
--The New York Times, T Magazine
"
Meticulously researched and written with authoritative finesse, Thomas' book creates a devastating survey
."
--Cleveland Plain Dealer
"
Humorous, informative.
"                         
--The Kansas City Star
"A Paris-based
Newsweek
writer casts
an impressive net over fashion…  Thomas' passion and egalitarianism stand out
."
--Entertainment Weekly
"Dana Thomas spins a yarn the way Pucci spins silk."
--The Washington Post Express
"The stories of the artisans whose names became big brands – including the likes of Salvatore Ferragamo, Louis Vuitton, and Gabrielle 'Coco' Chanel – are
fascinating.  Thomas…tells these tales beautifully, with rich reporting detail. … Luscious…  Thomas has done a marvelous job
of chronicling how brands once known exclusively to the super wealthy have become just another item in a shopping mall."
--San Francisco Chronicle
"
Lively and incisive.
"
--Bloomberg News
"
Uncompromising and intriguing.
"
--Fashion Week Daily
"
[M]eticulous research
…  [Thomas] manages to make the manufacturing process seem
absolutely riveting.
"
–The Washington Post
"The story of luxury goods today is really about globalization, capitalization, class and culture.  Dana Thomas has a feel for all of this and more and has written
a fascinating book.  A luxury product about luxury.
"
--Fareed Zakaria,
Newsweek
"If you have ever wondered why a woman absolutely needs to buy a $3,000 handbag, or why she might perish without a certain shade of lipstick, this book explains it all in
empirical, evolutionary detail. Dana Thomas has brilliantly dissected the fashion phenomenon
while the healthy beast still thrives luxuriously on the operating table.
Deluxe
might make some women pause before spending the rent money on their Manolo Blahniks."
--Richard Johnson, editor of the
New York Post's
Page Six  
*
"Dana Thomas is a brilliant reporter with a sharp eye for detail. In
Deluxe
, she provides an illuminating account of how the multi billion dollar luxury industry and the corporate giants that dominate it prey on, and bamboozle, consumers in the United States and the rest of the world."
--Michael Isikoff, co-author of Hubris: The Inside Story of Spin, Scandal and the Selling of the Iraq War
"Deluxe is delicious if you know about fashion; fascinating even if you don't. Dana Thomas is a fearless reporter who shows how so many designer goods have gone to hell in a handbag. This is a page-turning yarn about the men and women who have transformed luxury into an off-the-rack, global commodity."
--Joel Achenbach, Washington Post columnist and author of The Grand Idea
"Miss J. says don't buy the shoes, buy the book. Perfect front row reading when the shows are late during fashion week.
Deluxe
is a luxury to read."
 --Jay Alexander, America's Next Top Model
"Through exhaustive reporting and personalized storytelling, Dana Thomas has delivered a historical survey of a business that truly keeps the world going round. She may never again be so readily welcomed in some quarters of this beau monde, but the trade off is an essential reference for any student of fashion, finance or culture."
--Rose Apodaca, former west coast bureau chief, Women's Wear Daily

"Those who have read Deluxe, Thomas's fashion-world exposé, will know she tackles subjects many steer clear of. She's done it again with Gods and Kings, a dual biography of Alexander McQueen and John Galliano. Their rise is a romp to read but most fascinating is their fall." 
--Monocle
Penguin Press, 9781594204944, 432pp.
Publication Date: February 10, 2015
About the Author
Dana Thomas is the author of the New York Times bestseller Deluxe: How Luxury Lost Its Luster. She began her career writing for the "Style" section of The Washington Post, and for fifteen years she served as the European cultural and fashion correspondent for Newsweek in Paris. She is currently a contributing editor for T: The New York Times Style Magazine and has written for The New Yorker, The Wall Street Journal, Vogue, Harper's Bazaar, and the Financial Times in London. She lives in Paris.
or
Not Currently Available for Direct Purchase