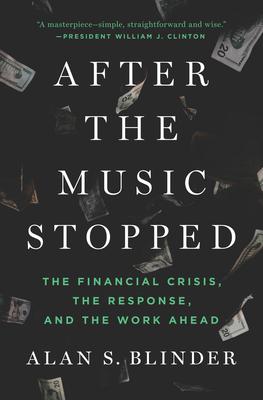 After the Music Stopped (Hardcover)
The Financial Crisis, the Response, and the Work Ahead
Penguin Press, 9781594205309, 496pp.
Publication Date: January 24, 2013
Other Editions of This Title:
Paperback (12/18/2013)
Compact Disc (8/5/2014)
MP3 CD (8/5/2014)
* Individual store prices may vary.
Description
With bracing clarity, Blinder shows us how the U.S. financial system, which had grown far too complex for its own good-and too unregulated for the public good-experienced a perfect storm beginning in 2007. When America's financial structure crumbled, the damage proved to be not only deep, but wide. It took the crisis for the world to discover, to its horror, just how truly interconnected-and fragile-the global financial system is. The second part of the story explains how American and international government intervention kept us from a total meltdown. Many of the U.S. government's actions, particularly the Fed's, were previously unimaginable. And to an amazing-and certainly misunderstood-extent, they worked. The worst did not happen. Blinder offers clear-eyed answers to the questions still before us, even if some of the choices ahead are as divisive as they are unavoidable. After the Music Stopped is an essential history that we cannot afford to forget, because one thing history teaches is that it will happen here again.
About the Author
Alan S. Blinder is the Gordon S. Rentschler Memorial Professor of Economics and Public Affairs at Princeton University and the vice chairman of the Promontory Interfinancial Network, a financial services firm based in Arlington, Virginia. He served as the vice chairman of the Federal Reserve s Board of Governors from 1994 to 1996 and was a member of President Clinton s Council of Economic Advisers. He writes a regular monthly op-ed column for "The Wall Street Journal" and appears frequently on PBS, CNBC, CNN, Bloomberg TV, and elsewhere."
or
Not Currently Available for Direct Purchase