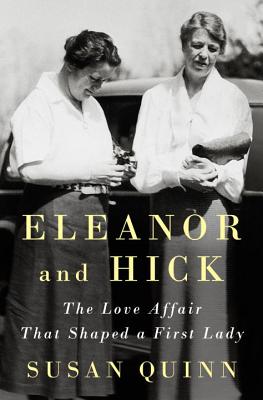 Eleanor and Hick
The Love Affair That Shaped a First Lady
Hardcover

* Individual store prices may vary.
Description
A warm, intimate account of the love between Eleanor Roosevelt and reporter Lorena Hickok—a relationship that, over more than three decades, transformed both women's lives and empowered them to play significant roles in one of the most tumultuous periods in American history

In 1932, as her husband assumed the presidency, Eleanor Roosevelt entered the claustrophobic, duty-bound existence of the First Lady with dread. By that time, she had put her deep disappointment in her marriage behind her and developed an independent life—now threatened by the public role she would be forced to play. A lifeline came to her in the form of a feisty campaign reporter for the Associated Press: Lorena Hickok. Over the next thirty years, until Eleanor's death, the two women carried on an extraordinary relationship: They were, at different points, lovers, confidantes, professional advisors, and caring friends. 
 
They couldn't have been more different. Eleanor had been raised in one of the nation's most powerful political families and was introduced to society as a debutante before marrying her distant cousin, Franklin. Hick, as she was known, had grown up poor in rural South Dakota and worked as a servant girl after she escaped an abusive home, eventually becoming one of the most respected reporters at the AP. Her admiration drew the buttoned-up Eleanor out of her shell, and the two quickly fell in love. For the next thirteen years, Hick had her own room at the White House, next door to the First Lady. 
 
These fiercely compassionate women inspired each other to right the wrongs of the turbulent era in which they lived. During the Depression, Hick reported from the nation's poorest areas for the WPA, and Eleanor used these reports to lobby her husband for New Deal programs. Hick encouraged Eleanor to turn their frequent letters into her popular and long-lasting syndicated column "My Day," and to befriend the female journalists who became her champions. When Eleanor's tenure as First Lady ended with FDR's death, Hick pushed her to continue to use her popularity for good—advice Eleanor took by leading the UN's postwar Human Rights Commission. At every turn, the bond these women shared was grounded in their determination to better their troubled world.
 
Deeply researched and told with great warmth, Eleanor and Hick is a vivid portrait of love and a revealing look at how an unlikely romance influenced some of the most consequential years in American history.
Praise For Eleanor and Hick: The Love Affair That Shaped a First Lady…
"The love affair between first lady Eleanor Roosevelt and journalist Lorena "Hick" Hickok has never been treated with as much care or attention as in Susan Quinn's Eleanor and Hick. Here, Quinn deftly traces the dissimilar but converging paths of these two complex women and gives new life to their intimate, dynamic relationship, against a backdrop of tremendous social upheaval."— NPR.org, Best Books of 2016

"Splendid. . . . Written with style and verve, and vigorously researched . . . filled with delightful details and provocative musings."—Blanche Wiesen Cook, Women's Review of Books


"Fascinating."—Susan Dunn, The New York Review of Books

"Making sense of this famous relationship has been complicated for historians, and Quinn concedes the impossibility of knowing what, exactly, happened between the two women physically. But, drawing extensively on their letters, she makes a strong case that the bond they shared was indeed romantic. . . .The abiding impression of this book is the intricacy of Roosevelt's intimate life."—The New Yorker

"A poignant account of a love affair doomed by circumstance and conflicting needs. Combining exhaustive research with emotional nuance, Quinn dives deep to convey the differing characters of president and first lady."—Richard Norton Smith, The Wall Street Journal

"Captivating…In prose that reads as fluidly and mesmerizingly as fiction, Quinn tells the story of the First Lady's marital discontent and determination to live an independent life despite her prominent position in the public eye, and of the 30-year-long partnership and love that unfolded between Roosevelt and Hickok…Beyond just a compelling love story, Eleanor and Hick brings to light a different side of the early-20th century White House, revealing the significant impact of this unconventional relationship on American political and cultural history." —Harper's Bazaar, Best Books of 2016

"An engrossing double biography. . . . Quinn brings new depth to their epic, three-decade-long love story."— New York Post

"Quinn writes about both women with great sensitivity, from the childhood wounds they both bore to their influence on one another as writers and social activists. Meticulously researched, engagingly written, and emotionally resonant, this is a welcome addition to the Roosevelt book shelf."— The Boston Globe

"A brisk, readable account of the intersection between these two women."— New York Times Book Review 

"Quinn sorts through the over three thousand letters the two sent to each other — honest, passionate and principled correspondence — to create a fascinating picture of the power and joy of the women's "subversive act" and its beneficial impact on the country at large."— Brit & Co.

"Quinn has produced an intimate book, tender and wise."—Stacy Schiff, The Washington Post
"Fascinating."—People

"A delightful account."—1843 (The Economist)

"Apart from chronicling a beautiful and complex friendship, Quinn also makes a strong case here that Eleanor Roosevelt was the most politically significant first lady America has ever had."— Bookpage

"Eleanor and Hick marvelously weaves the lives of these two women together, showing their fierce independence and yet continual dependence on each other. The book also reflects a refreshing change in cultural opinion, most likely one that will usher in books on other historical homosexual relationships just as well-researched and kind."— St. Louis Post-Dispatch

"Quinn tells Eleanor's always astonishing story from a freshly illuminating perspective and brings forward to resounding effect intrepid, eloquent, compassionate, and tough Hick. With episodes hilarious, stunning and heartbreaking, Quinn's compellingly intimate chronicle tells the long-camouflaged story of a morally and intellectually spirited, taboo-transcending, and world-bettering love."—Booklist 

"A well-researched dual biography. . . . Fast paced and engaging, this work will enthrall readers of presidential biographies and LGBTQ studies." —Library Journal

"Quinn deftly explores how the unlikely relationship evolved, relying on correspondence between the women, oral histories in archives, various government documents, and numerous other sources that allow readers to learn a great deal about normally private affairs…. A relentlessly captivating study of two remarkable individuals who helped extend the roles of American women in the public policy realm."—Kirkus Reviews (starred) 

"Susan Quinn's tender book of love and loyalty—set during the most tumultuous time of the twentieth century—reads like a whispered confidence. The forbidden relationship between First Lady Eleanor Roosevelt and hardscrabble journalist Lorena Hickok is one of the great love affairs in history, and yet it has remained largely untold. Thanks to Quinn, their beautiful and courageous story is a secret no longer."—Mary Gabriel, author of Love and Capital: Karl and Jenny Marx and the Birth of a Revolution, finalist for the Pulitzer Prize and the National Book Award

"In telling with vivid detail the story of a remarkable relationship between two strong women, Susan Quinn has provided a new way to look at some of the most momentous events of the twentieth century. Eleanor and Hick is delightful, moving, penetrating history."—David Maraniss, author of Barack Obama: The Story

"Eleanor Roosevelt's love affair with ace AP reporter Lorena Hickok, carried on just outside public view during the most public years of their lives, fascinates and inspires in Susan Quinn's irresistible telling. Eleanor and Hick is a powerfully moving and vital story that could not have been told in its day, and alters radically what we thought we knew about America's most influential and best-loved First Lady."—Megan Marshall, Pulitzer Prize-winning author of Margaret Fuller: A New American Life

"This is an important and probably unique biography in the history of the U.S. presidency. The special virtue of Eleanor and Hick is that Susan Quinn permits us to see how Eleanor Roosevelt's long, intimate relationship with Lorena Hickok helped her become not just a First Lady but a great one: courageous, committed, compassionate—and complicated. A triumph." —Nigel Hamilton, author of The Mantle of Command
Penguin Press, 9781594205408, 416pp.
Publication Date: September 27, 2016
About the Author
Susan Quinn is the author of Furious Improvisation: How the WPA and a Cast of Thousands Made High Art Out of Desperate Times and Marie Curie: A Life, among other books. Her work has appeared in The New York Times Magazine, the Atlantic, and other publications. She is the former president of PEN New England and lives outside of Boston, Massachusetts.
or
Not Currently Available for Direct Purchase