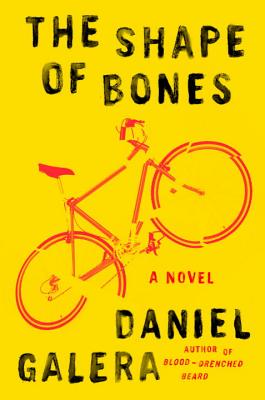 The Shape of Bones (Hardcover)
A Novel
Penguin Press, 9781594205484, 240pp.
Publication Date: August 15, 2017
Other Editions of This Title:
Digital Audiobook (8/14/2017)
Paperback (2/5/2019)
* Individual store prices may vary.
Description
"A book of visceral and tender beauty whose echoes persist long after the final page." 
—David Mitchell, author of The Bone Clocks

A coming of age tale of brutal beauty and disarming tenderness from one of Brazil's most exciting young novelists, an author writing in the footsteps of "Roberto Bolaño, Jim Harrison, the Coen brothers and...Denis Johnson" (The New York Times)

A young man wakes up at dawn to drive to the Andes, to climb the Cerro Bonete--a mountain untouched by ice axes and climbers, one of the planet's final mountains to be conquered--as an act of heroic bravado, or foolishness. But instead, he finds himself dragged, by the undertow of memory, to Esplanada, the neighborhood he grew up in, to the brotherhood of his old friends, and to the clearing in the woods where he witnessed an act that has run like a scar through the rest of his life.

Back in Esplanada, the young man revisits his initiation into adulthood and recalls his boyhood friends who formed a strange and volatile pack. Together they play video games, get drunk around bonfires, pick fights, and goad each other into bike races where the winner is the boy who has the most spectacular crash. Caught between the threat of not being man enough, the desire to please his friends, and the intoxicating contact-high of danger, the boy finds himself following the rules of the pack even as the risks mount. And in a moment that reverberates and repeats itself in new ways in his adulthood, his fantasies of who he is and what it means to be a man come crashing down, and life asserts itself as an endless rehearsal for a heroic moment that may never arrive.

From one of Brazil's most dazzling writers, The Shape of Bones is an exhilarating story of mythic power. Daniel Galera has written a pulse-racing novel with the otherworldly wisdom of a parable.
About the Author
Daniel Galera is a Brazilian writer and translator. He was born in Sao Paulo, but lives in Porto Alegre, where he has spent most of his life. He has published five novels in Brazil to great acclaim, including Blood-Drenched Beard, which was awarded the 2013 Sao Paulo Literature Prize. In 2013 Granta named Galera one of the Best Young Brazilian Novelists. He has translated the work of Zadie Smith, John Cheever, and David Mitchell into Portuguese. He is translated in English by Alison Entrekin.

Alison Entrekin translates Brazilian literature. Her works include Blood-Drenched Beard by Daniel Galera; City of God by Paulo Lins; The Eternal Son by Cristovão Tezza, shortlisted for the IMPAC Dublin Literary Award; Near to the Wild Heart by Clarice Lispector, shortlisted for the PEN America Translation Prize; and Budapest by Chico Buarque, shortlisted for the Independent Foreign Fiction Prize.
Praise For The Shape of Bones: A Novel…
"In subtle, textured prose . . . [Galera] captures the process through which a 15-year-old becomes a man."—Jane Ciabattari, BBC.com

"[An] intoxicating display of complex characters, palpable tension and verbal dexterity. . . . Beautifully translated by Alison Entrekin, [THE SHAPE OF BONES] is a powerful evocation of one man's rough, reckless childhood and his efforts to break free and give in to his desire 'to take on and be taken on by the world.'"—Malcolm Forbes, Minneapolis Star Tribune

"The Shape of Bones gleams with rich coloration and deeply felt physicality." —Chris Barsanti, Rain Taxi Review of Books

"Gripping and tender. . . . Galera's passages are beautifully crafted snapshots of nostalgic adolescent moments, when childhood innocence gives way to adult concerns."—Nancy Powell, Shelf Awareness

"Astonishing."—Michael Barron, Culture Trip

"A strikingly potent coming-of-age story set mostly on the streets of Esplanada, a rapidly changing area in northeast Brazil in the early 1990s, Galera's novel moves seamlessly between past and present to deliver a moving portrait of a man haunted by the ghosts of his youth and a senseless tragedy that would change the course of his life. . . . The result is a harrowing, expertly structured work of fiction." —Publishers Weekly

"Galera guides his story skillfully into and out of past and present, capturing . . . the touching vulnerability of young people who think they're immortal, as opposed to adults who are afraid of their own shadows. . . . An elegant meditation on the passage of time and its discontents."—Kirkus Reviews

"The Shape of Bones is a work of art about the fragility of things, the ever-presence of the past and the hidden currents that push us this way and that. A book of visceral and tender beauty whose echoes persist long after the final page. Alison Entrekin's impressive translation reads as if Galera had written in English." —David Mitchell

"The Shape of Bones is a tense, atmospheric meditation on the hypnotic pull of the past, cast in ferociously intelligent prose. Daniel Galera is a thrilling writer, and this novel is nothing short of essential." —Laura van den Berg

"In The Shape of Bones, Daniel Galera understands that violence is mysteriously capable of restoring a person to reality and  preparing him to meet his moment of grace. His characters bear life's inevitable weight of guilt and shame, all the while striving to resolve the fearful events of the past." —Susanna Moore

"The second novel now to be translated into English by the exciting force known as Daniel Galera, The Shape of Bones is an important meditation on memory and manliness as they both work to define masculine actions and identity. Told in dueling narratives, this story traces Hermano's life as a teenage boy and adult, as both race toward a tumultuous and violent moment that will reshape how he moves through the world. Scenes from his childhood are replete with that universal nostalgia echoic of any reader's youth, and Hermano's inner monologue as an adult taps into those undeniable feelings of regret and aimless angst anyone who has traversed this earth for long enough would relate to. A welcome addition to Galera's English-language oeuvre, dive into this brutal, bittersweet book with brash abandon." —John Gibbs, Green Apple Books
 
"Galera's often pensive story is well-told and by limiting the reader's view to but a few glimpses of his main character's life, he lends Hermano a universality and emotional range that will likely resonate widely. The Shape of Bones, with its propulsive plot and meditative milieu, offers a fictional foray into the enduring consequences of action and inaction alike." —Jeremy Garber, Powell's Books
 
"Coming of age novels have always had a special allure for me, and this male coming of age story is a most stunningly vivid and insightful one. Hermano, the protagonist, is a successful, 30-year-old plastic surgeon, husband and father; yet he often leaves the comforts of his life to engage in risky physical endeavors, and wonders why. En route to a particularly dangerous mountain climb, he stops to visit the town in which he grew up, reflects on his childhood friends who were prone to drinking and fighting, and recounts a number of tender childhood memories. Hermano is a man who has carefully planned his adult life as a surgeon who knows the natural shape of bones, to escape that which now haunts him—violence and the disfigurement of bones and bodies that can result from violence, his guilt and regret over decisions he made during his childhood. We are witness to a man now ready to face his demons in an attempt to find a better way forward; in other words, this is a haunting story with universal appeal."  —Jeanne Joesten, Literati Books
 
"An evocatively-written story of teenage boys growing up in a Brazilian suburb. Galera describes the teenage male spirit on the verge of manhood, when the idea that personal responsibility may be different for boys and men first enters the youthful consciousness." —Alice Melloy, Blue Willow Bookshop


or
Not Currently Available for Direct Purchase