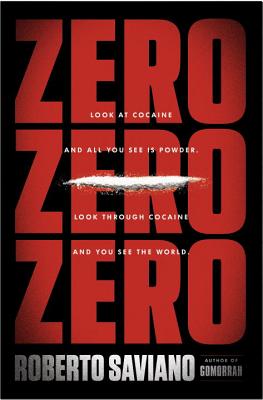 Zerozerozero
Look at Cocaine and All You See Is Powder. Look Through Cocaine and You See the World.
Hardcover

* Individual store prices may vary.
Other Editions of This Title:
Digital Audiobook (7/13/2015)
Paperback (8/30/2016)
Description
From the author of the #1 international bestseller Gomorrah comes anelectrifying investigation of the international cocaine trade, as viciousas it is powerful, and its hidden role in the global economy
In many countries, 000 flour is the finest on the market. It is hard to find, but it is soft, light, almost impalpable like the purest, highest qualitygrade of cocaine.
ZeroZeroZero
is also the title of RobertoSaviano's unforgettable, internationally bestsellingexploration of the inner workings of the globalcocaine trade its rules and armies, and the truedepth of its reach into the world economy and, byextension, its grasp on us all.
Gomorrah
, Saviano's explosive account of theNeapolitan mob, the Camorra, was a worldwidepublishing sensation. It struck such a nerve withthe Camorra that Saviano has had to live undertwenty-four-hour police protection for morethan eight years. During this time he has cometo know law enforcement agencies and officialsaround the world. With their cooperation, Savianohas broadened his perspective to take in the entireglobal corporate entity that is the drug trade andthe complex money-laundering operations thatallow it to function, often with the complicity ofthe world's biggest banks.
The result is a truly harrowing andgroundbreaking synthesis of intimate literarynarrative and geopolitical analysis of one of themost powerful dark forces in our economy.Saviano tracks the shift in the cocaine trade's axis ofpower, from Colombia to Mexico, and relates howthe Latin American cartels and gangs have forgedalliances, first with the Italian crime syndicates, then with the Russians, Africans, and others. Onthe one hand, he charts a remarkable increase insophistication as these criminal entities diversifyinto many other products and markets. On theother, he reveals the astonishing increase in theseverity of violence as they have fought to protectand extend their power.
Saviano is a writer and journalist of rarecourage and a thinker of impressive intellectualdepth, able to see the connections between farflungphenomena and bind them into a singleepic story. Most drug-war narratives feel safelyremoved from our own lives; Saviano's offersno such comfort. As heart racing as it is heady, ZeroZeroZero is a fusion of disparate genres intoa brilliant new form that can rightly be calledSavianoesque.
Penguin Press, 9781594205507, 416pp.
Publication Date: July 14, 2015
About the Author
Roberto Savianowas born in Naples in 1979. He is the author ofGomorrah: A Personal Journey into the Violent International Empire of Naples s Organized Crime Systemand has lived under police protection since its publication in 2006. His writing appears inThe Washington Post, The New York Times, Der Spiegel, Die Zeit, andThe Times(London). Virginia Jewiss received her PhD in Italian literature from Yale University, where she is a lecturer in the humanities. Her translations include Melania Mazzucco's novels Vita and Limbo and screenplays by Paolo Sorrentino, Matteo Garrone, and Gabriele Salvatores. Jewiss's translation of Roberto Saviano's Gomorrah was published by Farrar, Straus & Giroux in 2007."
or
Not Currently Available for Direct Purchase