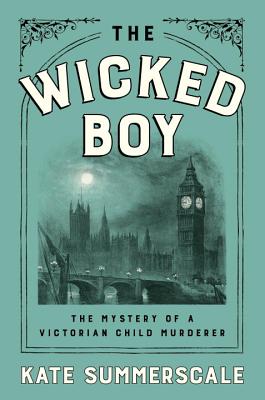 The Wicked Boy
The Mystery of a Victorian Child Murderer
Hardcover

* Individual store prices may vary.
Other Editions of This Title:
Digital Audiobook (7/11/2016)
Paperback (7/4/2017)
Description
Winner of the 2017 Edgar Award for Best Fact Crime Book! 

From the internationally bestselling author, a deeply researched and atmospheric murder mystery of late Victorian-era London

In the summer of 1895, Robert Coombes (age 13) and his brother Nattie (age 12) were seen spending lavishly around the docklands of East London -- for ten days in July, they ate out at coffee houses and took trips to the seaside and the theater. The boys told neighbors they had been left home alone while their mother visited family in Liverpool, but their aunt was suspicious. When she eventually forced the brothers to open the house to her, she found the badly decomposed body of their mother in a bedroom upstairs. Robert and Nattie were arrested for matricide and sent for trial at the Old Bailey. 

Robert confessed to having stabbed his mother, but his lawyers argued that he was insane. Nattie struck a plea and gave evidence against his brother. The court heard testimony about Robert's severe headaches, his fascination with violent criminals and his passion for 'penny dreadfuls', the pulp fiction of the day. He seemed to feel no remorse for what he had done, and neither the prosecution nor the defense could find a motive for the murder. The judge sentenced the thirteen-year-old to detention in Broadmoor, the most infamous criminal lunatic asylum in the land. Yet Broadmoor turned out to be the beginning of a new life for Robert--one that would have profoundly shocked anyone who thought they understood the Wicked Boy.

At a time of great tumult and uncertainty, Robert Coombes's case crystallized contemporary anxieties about the education of the working classes, the dangers of pulp fiction, and evolving theories of criminality, childhood, and insanity. With riveting detail and rich atmosphere, Kate Summerscale recreates this terrible crime and its aftermath, uncovering an extraordinary story of man's capacity to overcome the past.
Praise For The Wicked Boy: The Mystery of a Victorian Child Murderer…
"Kate Summerscale is deft at interweaving weaving her narrative with extensive quotes from court proceedings and press accounts. Don't look to "The Wicked Boy" for either amped-up emotion or for sanitization of the facts. It reads like the successful and well-balanced offspring of a liaison between a crime novel and a scholarly paper."— Florida Times Union

"A remarkable job of historical reconstruction…. In the time-honored tradition of Victorian crime stories, The Wicked Boy is a compelling mixture of the gruesome and the perfectly ordinary, a brew uniquely British…. a feat of genuine detective work." —Dallas Morning News

 "A chilling look at an infamous child murderer, The Wicked Boy will have you losing sleep."-- Bustle

"In The Wicked Boy you'll think you're reading Dickens."— NBC-2

"Summerscale's command of the detail of Victorian life is impressive; her grasp of the nuances and characters of the individual personalities complete. "The Wicked Boy" is an extraordinary tale of black tragedy and hard-won redemption. Not to be missed by devotees of the Victorian Era."— Daily Herald

"Ms. Summerscale has found a nifty literary specialty: resurrecting and reanimating, in detail as much forensic as it is novelistic, notorious true-life tales of the Victorian era… Enjoyable as an atmospheric tale of crime and punishment from a distant era written in lucid, limber prose, "The Wicked Boy" also implicitly raises questions that remain with us today… Ms. Summerscale's easy mastery of what turns out to be a complicated, at times surprising narrative drives the book forward… Ms. Summerscale draws no firm psychological conclusions, but instead leaves the mystery of the boy and the man to our imaginations, where it pricks at us throughout the book." --Charles Isherwood, New York Times

"Summerscale's ambitious literary goal… is to position her close study of a specific crime within the broader context of the social and political climate in which it was committed. When the novelist P.D. James turned to true crime… [she] share[d] that expansive vision… Irresistible."--Marilyn Stasio, New York Times Book Review

"Summerscale has taken her research to many levels of learning for the reader. It's more than The Mystery of a Victorian Child Murderer—it's a tale about change. It belongs on every reader's bookshelf."— New York Journal of Books  

 "Narrative nonfiction that reads like a novel."— Omnivoracious Best History Books of July

"The Wicked Boy is an absorbing piece of true-crime investigation, and a surprising and satisfying tale of redemption….a treat for true-crime fans." —Shelf Awareness 

"Summerscale specializes in revisiting scandals that reveal Victorians in the throes of their own morbid spells. She expertly probes the deep anxieties of a modernizing era. Even better, she brings rare biographical tenacity and sympathy to bear." —The Atlantic

"As engrossing as a novel." —Entertainment Weekly

"Summerscale bolsters her reputation as a superior historical true crime writer with this moving account of Victorian-age murder that is a whydunit rather than a whodunit….[Her] dogged research yields a tragedy that reads like a Dickens novel, including the remarkable payoff at the end."—Publishers Weekly (starred)

"This well-written story is not so much a true-crime tale or murder mystery as an excellent sociological study of turn-of-the-20th-century England." —Kirkus Reviews


Praise for Kate Summerscale's The Suspicions of Mr. Whicher:
 
"A beautiful piece, written with great lucidity and respect for the reader, and with immaculate restraint. A classic, to my mind, of the finest documentary writing." - John Le Carre
 
"A pacy analysis of a true British murder case from 1860, the unravelling of which involved one of the earliest Scotland Yard detectives and inspired sensation novelists such as Dickens and Wilkie Collins ... Absolutely riveting." - Sarah Waters
 
"[A] fastidious reconstruction and expansive analysis of the Road Hill murder case...Summerscale smartly uses an energetic narrative voice and a suspenseful pace, among other novelistic devices, to make her factual material read with the urgency of a work of fiction." - Marilyn Stasio, New York Times Book Review

"Remarkable for the power of the storytelling... [this] is likely to be the last word on this tragic and mysterious crime." - PD James
 
"I can't think of another book which takes you so fast into the smells, tastes and atmosphere of that time." - Doris Lessing

 
Praise for Kate Summerscale's Mrs. Robinson's Disgrace:
 
"This is the golden age of narrative nonfiction, and Summerscale does it better than just about anyone." - Laura Miller on NPR's "Weekend Edition Sunday"
 
"Summerscale unspools the Robinsons' tale with flair in Mrs. Robinson's Disgrace, but it's her social history of marriage that's really riveting. Grade: A" - Tina Jordan, Entertainment Weekly
 
"[Kate Summerscale] prods, scrutinizes and examines, employing a real-life historical episode to shed light on Victorian morality and sensibilities." - Andrea Wulf, New York Times Book Review

 

 
Penguin Press, 9781594205781, 400pp.
Publication Date: July 12, 2016
About the Author
Kate Summerscale, formerly the literary editor of the Daily Telegraph, is the author of The Queen of Whale Cay, which won a Somerset Maugham Award and was short-listed for the Whitbread Biography Prize. The Suspicions of Mr. Whicher was a #1 bestseller in the UK, has been translated into more than a dozen languages, was short-listed for the CWA Gold Dagger for Non-Fiction and the Edgar Award for Best Fact Crime, and won the Samuel Johnson Prize for Non-Fiction and the British Book Awards Book of the Year. Summerscale lives in London.
or
Not Currently Available for Direct Purchase